Still A Viable Contender
Acura's current midsize entry has done well, pulling its share of aspiring executives to the Japanese automaker's premium brand. While similar to the
Honda Accord
in many ways, the TL's clean, understated styling exudes a European flair, the kind of subtle sophistication that shows discriminating taste, but won't upstage the boss.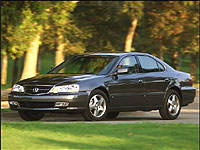 Anticipating an all-new model in 2004, the 2003 Acura TL has only been refined from prior years. (Photo: Acura)
Initially launched in 1994 as a 1995 model, but redesigned to its current body style in model year 1999, the TL has only been refined for 2003 in anticipation of an all-new 2004 model (see Acura Concept TL in the concepts section of this web site for a sneak preview).
Enhancements include restyled door mirrors for improved aerodynamics and a resultant reduction in wind noise, as well as added insulation to achieve a quieter cabin. Also, the sporty Type S model ups its image with perforated leather door trim to match its perforated leather seat inserts.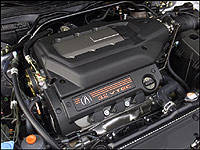 The Acura's 225-hp 3.2-L VTEC V6 is smooth and refined, but the 260-hp Type S version (shown) is a jewel of an engine. (Photo: Acura)
Those front bucket seats are some of the best I've ever tested, especially in Type S trim. Still there's nothing wrong with the regular TL seats, firm and supportive with superb lateral support fitting the car's sporting demeanor.
In base guise the TL boasts a robust 225-hp 3.2-L VTEC V6 with 216 lb-ft of torque, matched to an extremely well sorted 5-speed Sequential SportShift automatic transmission. The Acura V6 is a jewel of an engine, high revving but as smooth and refined as modern 6-cylinder's come. The transmission is equally impressive, allowing sequential manual shifting. The feature doesn't necessarily improve the rate of acceleration but does hold a chosen gear through corners, benefiting at the limit control and overall performance.