In Canada, Lucas Luhr allowed Klaus Graf to qualify the No. 6 HPD ARX-03c they share. Graf rewarded his teammate with the fastest lap around the Canadian Tire Motorsport Park of Bowmanville, ON. Meanwhile, Jonathan Bomartio scored his first GT pole, at the wheel of the No. 93 SRT Viper GTS-R he shares with Canadian Kuno Wittmer.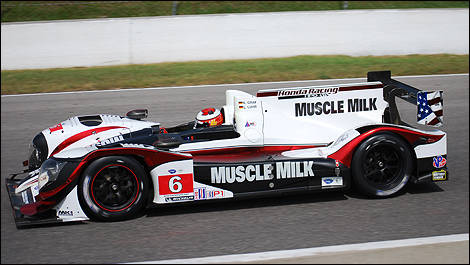 Klaus Graf, HPD ARX-03c (Photo: René Fagnan)
Corvette Racing's Jan Magnussen (No. 3 Corvette C6 ZR1) and Bomarito's teammate Marc Goossens (No. 91 Viper) complete the GT top three.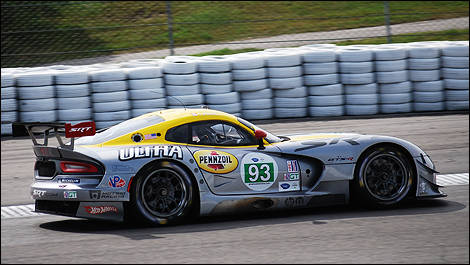 Jonathan Bomarito, SRT Viper GTS-R (Photo: René Fagnan)
Standing in for the injured Ryan Briscoe, who hurt his wrist racing in IndyCar at Detroit, Mike Conway shot straight to the top of the P2 class in Level 5 Motorsports' No. 552 HPD ARX-03b.
In hist first ALMS appearance, he beat teammate Marino Franchitti (No. 551 HPD ARX 03b) and Extreme Speed Motorsport's Johannes van Overbeek (No. 02 HPD ARX 03b).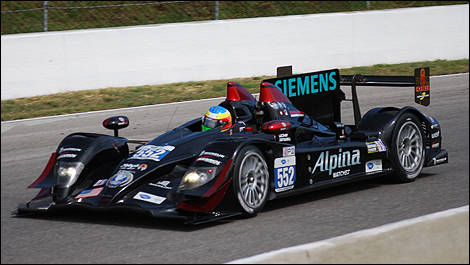 Mike Conway, HPD ARX-03b (Photo: René Fagnan)
Despite posting the fastest lap in PC, Colin Braun (CORE) will start second in class. An incident involving Mike Guash (PR1 Mathiasen Motorsports) cut his session short before it reached the minimum time requirement of 10 minutes. That meant officials had to sort out the grid based on championship standings.
Guash therefore got away with the pole despite his incident.
Jeroen Bleekemolen (Alex Job Racing) managed his third pole of the season in GTC.
Qualifying results – Canadian Tire Motorsport Park (Bowmanville, ON)
1.Graf/Luhr (HPD ARX-03c) - Pickett - 1'05"871
2.Tucker/Conway (HPD ARX-03b) - Level 5 - 1'08"785
3.Tucker/Franchitti (HPD ARX-03b) - Level 5 - 1'09"031
4.Burgess/McMurry (Lola B12/60 Mazda) - Dyson - 1'09"564
5.Brown/Van Overbeek (HPD ARX-03b) - ExtremeSpeed - 1'09"740
6.Bennett/Braun (Oreca FLM09) - CORE - 1'10"303
7.Legge/Meyrick (DeltaWing) - Panoz - 1'10"531
8.Schultis/Van Der Zande (Oreca FLM09) - CORE - 1'10"706
9.Sharp/Cosmo (HPD ARX-03b) - ExtremeSpeed - 1'10"850
10.Junqueira/Ende (Oreca FLM09) - Rocketsports - 1'10"984
(...)