We reported about it earlier this week, and today Renault made it official : the all-new A110-50 concept celebrates the 50
th
anniversary of the iconic A110.
The car is motivated by a 3.5L V6 engine (codename V4Y) in mid-rear position that produces 400 horsepower through a 6-speed semi-automatic transmission.
The two-seat cockpit is very simplistic yet features a Renault Design steering wheel that incorporates a colour screen and houses the same technology as a Formula Renault 3.5 to provide drivers with all the information they need.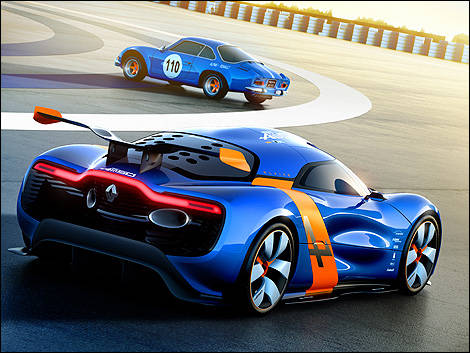 Photo: Renault
Outside, you'll notice air intakes on each side: the right-hand opening is for gearbox cooling, the left is for the engine bay. The front hood opens forward and the rear engine cover backwards, while the doors feature a scissor motion.
The carbon fibre body comes in a striking new shade of blue that reinterprets the famous original Alpine Blue, while the half-domed lamps with full LED yellow lighting add another nostalgic touch. The A110-50 rides on exclusive 21'' alloy wheels.
''The car is very curvy, like the Berlinette, while expressing the three key words of our new design policy: simple, sensual and friendly,'' said Axel Breun, Concept and Show Car Director at Renault.
From the moment it debuted at the Paris Auto Show in 1962, the A110's mission has always remained clear: to win rallies. And Renault insists the A110-50 concept ''isn't a car you simply take for a drive – it demands to be properly driven.''