Talk about an audiophiles dream. The team at Alpine, a leader in car audio and electronics, took a 2000 BMW X5 and gave it a new purpose- to become the ultimate listening machine and show off the company's impressive selection of top-end audio equipment to folks anywhere.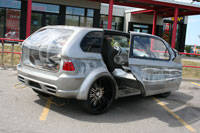 (Photo: Justin Pritchard, Auto123.com)
Originally intended as a showpiece for consumer electronics shows, this X5 now spends its days touring Alpine dealers and car shows where it turns heads and attracts serious attention.
It's no wonder why.
Alpine left few of the BMW design team's original styling elements intact. A wild-looking body kit surrounds the SUV, while a deep front bumper gives the impression of an overgrown M3. That's only the beginning. The doors are welded together and combined with motorized panels which open outward from the body of the car. The door panels carry racing seats which reside behind one another when the doors are closed. Passengers actually board their seat outside of the vehicle before the door and seat assemblies slide back in. The paint carries professionally airbrushed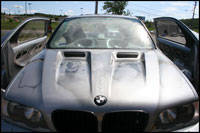 (Photo: Justin Pritchard, Auto123.com)
images of famous artists for added flare, and massive Brembo brakes peek out from behind a set of deep-dish 26" rims wearing 305/30R26 tires from Kumho. The rear liftgate has even been replaced with a single piece of molded glass carrying the BMW badge and allowing a clear view to spectators of the stereo equipment inside.
That stereo equipment, by the way, consists of Alpine F1 status components and Type X subwoofers, two to be exact. There are also 6 amps, 2 touch-screen monitors and 5 sets of speakers. The point of all the equipment is to achieve top marks in sound quality (SQ), and not sound pressure level (SPL) which is a more common measure intended to represent the overall power of a stereo system. The resulting sound created by the Ultimate Listening Machine is so clean and clear that you'd think the Eagles, Beatles, AC/DC or any of your other favorite bands were playing to you from right on the hood.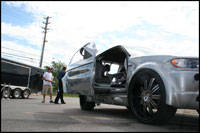 (Photo: Justin Pritchard, Auto123.com)
None of the original BMW parts are present inside- having all been replaced with acres of molded fiberglass and speakers. The steering wheel and pedals have been moved to the center of the vehicle- the ideal position to take in the sound system.
So, with a stereo larger than most movie theaters and distinct bling-bling styling, it sounds like it might be a fun ride to tour around in, right? Well, it does actually drive- from its parking space to the back of its trailer. Removal of the factory safety equipment and heavy modification to the structure and frame of the X5 renders it unfit for street use.