Anyone who was looking for a big drop in the ante for a new Audi with the arrival of the VW brand's new five-door hatchback in mid-May will probably be disappointed with the MSRP on the 2006 Audi A3.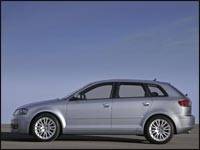 2006 Audi A3 (photo: Audi)
At $32,850 for the Audi 2.0T FrontTrak model with the six-speed manual or $34,400 for the Audi 2.0T Quattro hatchback with the DSG automatic, that's not too far from where the bigger and supposedly more accomplished A4 sedan started in 2004 or 2005.
But then Audi America has seen its way clear to jacking up the stickers for some of the new 2006 A4 models by more than $2,000 over the previous models, so that leaves more room for the A3.
For the most part a slicked-up VW Golf, the Audi A3 is being marketed by VW America as a ''premium compact,'' which is a relatively new segment currently occupied by the Saab 9-2X.
Audi America says that, ''With its aggressive styling, sporty driving dynamics, and abundance of standard features, the A3 offers TT-like performance and sophistication with the versatility of its four-door design and cargo area.''
For those of you who came in late, the TT is a two-seat roadster.
Both models of the A3 are equipped with dual-zone automatic climate control, 17-inch alloy wheels, electronic stability program, a 140-watt sound system with ten speakers and an in-dash CD player, cruise control, central locking with remote, power windows with one-touch up/down for all four windows, and split folding rear seats.
Though the cars won't officially be at dealers until mid-May, Audi is offering customers in Canada and the U.S. a chance to drive the A3 now and take part in the Great Things Come In 3s promotion. This promotion includes the opportunity to receive 33 songs from iTunes for qualified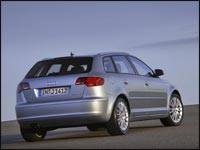 2006 Audi A3 (photo: Audi)
drivers who take a test drive, and a Bose Companion 3 multimedia sound system for customers who place a pre-sales order. For more information on this promotion, please visit www.audiusa.com/a3.
The A3 2.0 T can be ordered in one of three trim levels: 2.0 T, 2.0 T Sport package, and 2.0 T Premium package.
The $2,600 Sport package consists of 17-inch, 16-spoke bi-color wheels with all-season tires, sport suspension, aluminum interior trim, leather covered multifunction three-spoke steering wheel, roof spoiler, fog lights, leather seating surfaces, and sport seats.
The luxury-oriented $2,850 Premium package provides 17-inch 16-spoke silver wheels with all-season tires, HomeLink, storage package, trip computer, auto-dimming interior mirror with light/rain sensor, power adjustable driver seat, leather covered multifunction three-spoke steering wheel, aluminium interior trim, fog lights, and leather seating surfaces.
Both A3 Sport and Premium packages can also be equipped with a cold weather package ($950) consisting of heated front seats, washer nozzles, and mirrors, and a ski sack.
A Sound Package ($1,250) with a Bose system with a six-disc CD is also available on cars with the Sport and Premium packages.
All A3 models are available with the Open Sky system for $1,200, which consists of a power-operated glass sunroof in the front, and a glass panel roof for the rear seats. Both panels have manual sunshades should the passengers decide to block unwanted light.