Audi will reportedly launch a 650-horsepower Quattro Concept based on the A5 coupe at the Frankfurt Auto Show this fall. The car will use lightweight materials such as magnesium, carbon fibre and aluminum to tip the scales at just 1,315 kg (2,900 lbs).
Originally
introduced at the 2010 Paris Auto Show
, the Audi Quattro Concept will apparently replace its 380-horsepower, 2.5L, five-cylinder engine with a tuned version of the RS7's 4.0L twin-turbo V8 that allows 0-60mph (0-96km/h) acceleration in 3.4 seconds, according to several sources.
The new Audi Quattro Concept is also said to feature variable displacement technology for improved fuel economy. Should it enter production, this car could retail for $150,000, right in the R8's ballpark.
Source : www.thedetroitbureau.com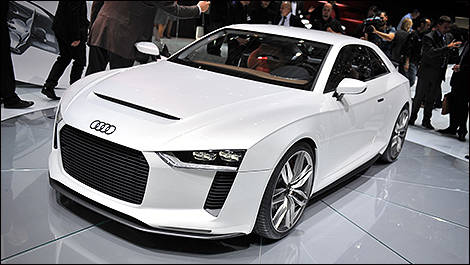 Photo: Matthieu Lambert