Audi will introduce four new TDI Clean Diesel models at the upcoming Los Angeles Auto Show, marking the first time the German brand will feature a full lineup of TDI vehicles in America.
The TDI-powered Audi A6, A7, A8 and Q5 will join the updated Q7 TDI, each one delivering up to 30% better fuel economy and 30% lower CO2 emissions than gasoline engines.
''Owners of Audi TDI engines have helped save over 4 million gallons of gasoline, or the equivalent of more than 240,000 barrels of foreign oil, since the introduction of Audi TDI to the U.S. in 2009,'' said Scott Keogh, President, Audi of America. ''And TDI technology delivers better fuel efficiency without sacrificing performance.''
The A6, A7 and Q5 equipped with the TDI engine will arrive in the U.S. next fall, while the A8 variant is expected as early as next spring. Meanwhile, the Q7 TDI, which launched in the U.S. in September, retails for $52,000.
Canadian availability and pricing have yet to be announced.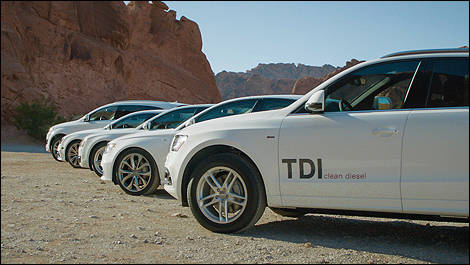 Photo: Audi