The Los Angeles Auto Show is now greener than ever with an invasion of hybrid and electric vehicles such as the
2014 Chevrolet Spark EV
, which will initially go on sale next summer in select markets including California, Oregon, Canada, and South Korea.
GM announces class-leading range without getting into specifics. The 2014 Chevrolet Spark EV comes with dual 7'' LCD screens and a range indicator that takes road conditions and driving style into account.
It will be the first electric vehicle to offer SAE Combo DC Fast Charging capability, restoring the battery to an 80% charge in just 20 minutes. Using a dedicated 240V outlet, the 2014 Chevrolet Spark EV fully charges in less than seven hours.
Expect 0-60 mph (96 km/h) acceleration in under 8 seconds thanks to a 20 kWh lithium-ion battery and 110 kW (130 hp) electric motor.
The 2014 Chevrolet Spark EV should retail for around $25,000 in the U.S. Stay tuned for Canadian pricing.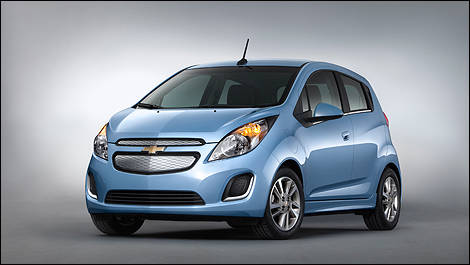 Photo: Chevrolet