Audi's showing off a third-generation A3 in Geneva, featuring an efficient 1.6-litre TDI engine they say consumes a paltry 3.8 litres of diesel for every 100 km; alternative powertrains are in development, including hybrid and natural gas versions. Two TFSI choices, a 1.4L with 122 hp and a 1.8L with 180, will also be on offer. The 2.0L TDI and 1.4L TFSI will feature a six-speed manual, while the 1.8L gets a seven-speed S-tronic as standard.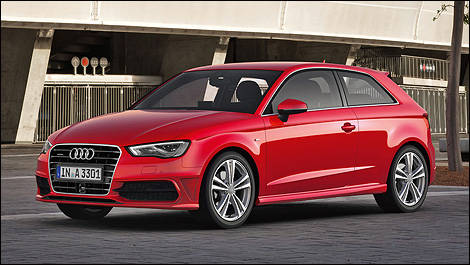 Photo: Audi
The new A3 is 80 kg lighter than the last but the same overall length. The interior is completely redesigned, with "trendsetting" material qualities, including a floating instrument panel and driver information displayed in full-colour 3D on the higher trims.
Audi will offer several driver-assistance systems not seen in the compact class, like adaptive cruise control, side assist (which monitors traffic at the back of the car with radar), active lane assist, and a park assist system that will take over for the driver for perpendicular and parallel parking.
2012 Audi A3