The smallest car in Mercedes-Benz's lineup of vehicles just got a makeover; a major makeover. Like the 2013 B-Class, the A is transformed from a high-roof hatchback to a low-slung, sporty little car.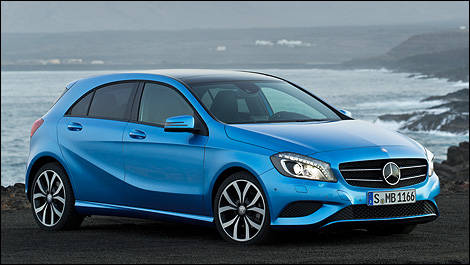 Photo: Mercedes-Benz
In Europe, a bunch of engines will be offered, as usual: 1.6L and 2.0L gas engines will feature direct injection and turbocharging, producing 115 to 211 horsepower. Turbodiesel mills will also equip the new A-Class, ranging 109 to 170 hp and 184 to 258 lb-ft of torque. According to Mercedes, all engines will feature a stop-start function as well as a choice between a standard 6-speed manual and optional 7-speed, dual-clutch gearbox.
Inside, the A-Class likely won't skimp on quality craftsmanship, and AMG Sport models will feature black interiors with red accents and contrasting stitching on the seats and steering wheel.
Shorter, lower and marginally narrower than the new 2013 Mercedes-Benz B-Class, the A-Class' striking sheet metal is closely based on the Concept A-CLASS that was first presented at the 2011 Shanghai Auto Show. The car's 0.26 drag coefficient makes it one of the slipperiest production cars on the road.
Will the new A-Class come to Canada? Maybe.