The V6 turbo diesel engine available on the
Q7
since 2009 features the same displacement, the same throttle opening angle and the same stroke as its predecessor, which was offered exclusively on the European market. The similarities end there, however, as this V6 TDI has been massively redesigned.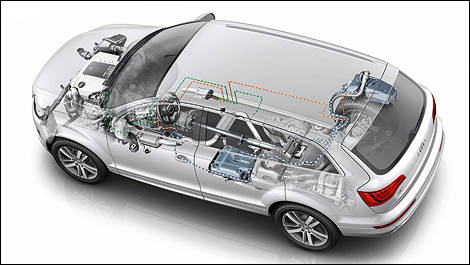 Photo: Audi
The 3.0-litre "clean diesel" number is brand spanking new, from the cylinder block to the crankshaft, from the connecting rods to the aluminum pistons and right down to the cylinder head. It has been completely revised, so much so that it's now 12% lighter. The new V6 is just 44 cm long and weighs in at 193 kg, 25 kg less than its predecessor.
The new alloy cylinder heads alone enabled engineers to shave off 3 kg, and the new crankshaft saved 2 kg. A few precious grams were even saved by using aluminum instead of steel for most of the bolts and cooling lines!
The engine's output has also been improved by reducing friction between moving parts (pistons, timing chain, etc.). In Europe, this engine also features a Start-Stop system that boosts
fuel economy
by turning the engine off as soon as the vehicle stops. The engine instantly comes back to life when the driver releases the brake pedal.
According to the automaker, this V6 TDI won't produce any more polluting emissions than an ordinary gasoline engine. It should emit 20% less
CO2
and consume 30% less fuel than a gasoline V6 with the same displacement. Audi's estimated combined fuel consumption rating in Canada is 10.8 litres per 100 kilometres. Despite the low ratings, the engine is capable of some stunning performances. In fact, this TDI can whip the Q7 from 0 to 100 km/h in just 8.1 seconds!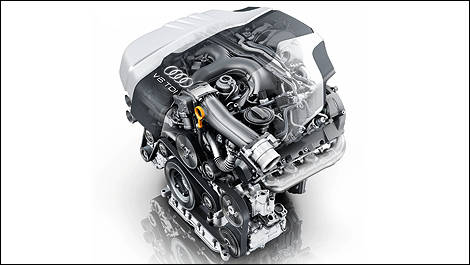 Photo: Audi