From press release
The 2014 Race Of Champions will be held at the Bushy Park Circuit in Barbados on December 13-14 after the Caribbean venue saw off a wide range of contenders from all round the world to host the prestigious motor sport event.
The annual end-of-season contest, which has been held for over 25 years, brings together the world's greatest drivers from motor sport's major disciplines – including Formula 1, World Rally, Le Mans, MotoGP, Nascar, IndyCar, Touring Cars and the X-Games – and sets them free to battle head-to-head in identical machinery.
In recent years the Race Of Champions has visited the Stade de France in Paris (2004-2006), London's Wembley Stadium (2007-2008), the 'Bird's Nest' Olympic Stadium in Beijing (2009), Düsseldorf's ESPRIT arena (2010-2011) and Bangkok's Rajamangala Stadium (2012).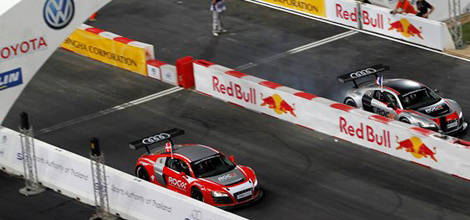 Photo: Race of Champions
The public was asked to contribute to the decision on this year's ROC host via a vote on the Race Of Champions website, Facebook and Twitter. The Bushy Park Circuit was one of the most popular choices – and after final discussions with all the leading contenders, the Barbados venue has now been selected to stage ROC 2014.
Newly renovated this year to become a multi-purpose motor sport facility, the Bushy Park Circuit has a 40-year history of hosting big racing events.
Situated a short drive from the Barbados capital city Bridgetown and the international airport, the circuit has now been extended from 1.3km to a licensed FIA Grade 3 circuit just over 2km long with capacity for tens of thousands of spectators. The redevelopment also features a new clubhouse and pits complex along with a drag strip and a kart track.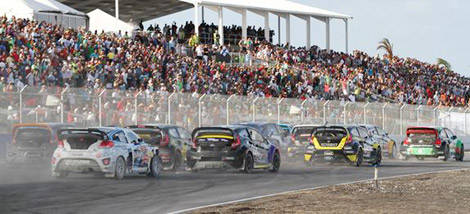 Photo: Race of Champions