History/Description:
The
BMW 7 Series
is one of the mainstream motoring world's most instantly recognizable sedan status symbols, and one commonly sought out by shoppers after world-class luxury and comfort. The last-generation of this luxurious land yacht was available to us Canadians from model years 2002 to 2008 inclusive.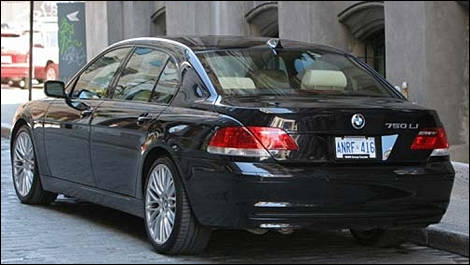 2006 BMW 750Li (Photo: Philippe Champoux/Auto123.com)
Look for a 4.4L V8 engine with 325 horsepower and a 6-speed automatic transmission on the 745i. A 6.0L, 438-horsepower V12 was available in the 760i, though the V8 should prove adequate for most. Later in the 7 Series's life, the V8 engine was punched out to a 4.8L unit, developing 360 horsepower and facilitating a rename to 750i. Both standard and extended-wheelbase models were available; the latter get an 'L' designation in the name badge.
Look for all the toys you can think of. Ventilated, 20-way power-adjustable seats with position memory, premium audio, wood trim, soft-close and self-sealing doors, heated rear seats, a parking distance sensor, navigation, adaptive xenon headlights and plenty more were all on board. Cars didn't get much more well-equipped or high-tech than the 7 Series. Expect plenty of room for 4 or 5 adults and a generous trunk, too.

What Owners Like:
Style, exclusivity, comfort, ride quality, cabin feel and overall space and luxury were highly rated by owners of the last-generation 7 Series. Performance, handling and engine refinement were also highly rated.

What Owners Dislike:
Some owners complain of higher-than-expected levels of wind noise, fussy and hard-to-learn electronics, limited visibility as well as a lazy, heavy steering feel.

Common Issues With A Used BMW 7 Series :
Approach any used 7 Series looking for signs of electronics trouble. Plan to spend a half-hour ensuring all electronic components work properly, including all motorized seat adjustments, instruments, lights, the stereo, climate control, rear sunshade, electronic parking brake and phone/navigation system.
Numerous owners have reported issues with the Bluetooth phone system failing to "hear" them, so be sure that's not the case in the model you're considering.
2006 BMW 750Li (Photo: Philippe Champoux/Auto123.com)