History/Description:
Available from 2006 to 2010, the "E60" generation of the BMW M5 offered up a potent and high-revving, 5.0-litre V10 engine with 500 horsepower, a 7-speed SMG transmission and a slew of track-ready performance upgrades to handle the output of the most powerful factory 5 Series yet. All models were rear-wheel drive.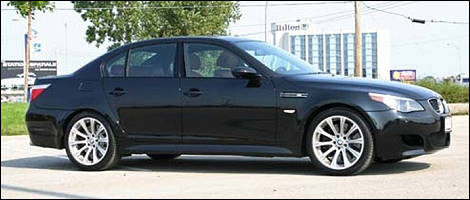 2006 BMW M5 (Photo: Olivier Delorme/Auto123.com)
As the 5 Series's range-topping model, the M5 also came loaded with features like xenon lighting,
Bluetooth
,
navigation
, heated leather and premium audio. This is a car that can effortlessly appeal to performance and luxury buffs alike.
The M5 isn't a car for the faint of heart though, while high fuel and insurance costs mean a more modest 5 Series model with a smaller engine may make more sense for most shoppers.
What Owners Like:
Not surprisingly, the last-generation M5 was praised by its owners for looks, exclusivity, performance, thrills and a high-quality cabin. Supportive seats and the convenience of a sedan were also highly rated.
What Owners Dislike:
Many owners report frustration with terrible fuel mileage, very poor fuel consumption and a rough and awkward feel to the M5's SMG transmission. A manual gearbox became available later in the M5's life.
Common Issues With A Used BMW M5:
First and foremost, ensure all electronics on the M5 you're considering are working as expected. All interior and exterior features, including the stereo, iDrive, windows, locks and instruments should be checked.
Note any warning indicators that may become illuminated on your test drive, especially more common ones pertaining to the SMG transmission, if so equipped. Many owners have reported some level of problems with the computer-controlled brain that manages this sophisticated transmission.
Some 06-10 M5 owners report problems with oil lines and solenoids that operated its 'VANOS' valve timing system in earlier years, so be sure to have these systems verified for proper operation by a BMW trained mechanic.
Additionally, reports of a frozen iDrive central command system aren't uncommon.
A loud creaking noise from the M5's rear end could be caused by a problem with the differential, which could be remedied by switching to a different type of lubricating oil.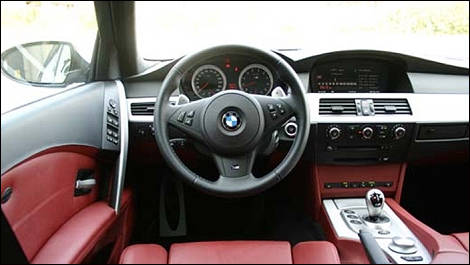 2006 BMW M5 (Photo: Olivier Delorme/Auto123.com)