At 176 victories, 8 Constructors' titles and 12 Drivers' championships, McLaren is undoubtedly one of the most prestigious and most successful Formula 1 teams. This new book takes readers inside the organization that makes the most advanced race cars on the planet and drives the passions all-around the world.
"McLaren: The Art of Racing" is a 304-page, hardcover book written by veteran British F1 journalist Maurice Hamilton featuring 280 stunning colour photos of Darren Heath, over many double-page spreads. It even features a printing technique on the cover which has never been done before in publishing.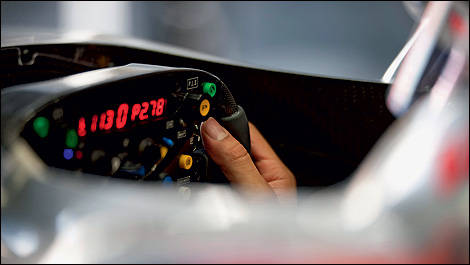 Lewis Hamilton (Photo: Darren Heath)
The book is not only about the drivers – World Champions Lewis Hamilton and Jenson Button – but also about the people behind them: the engineers, the mechanics and the skilled workers at the factory.
This Prestel-published book takes the readers inside the $100M McLaren Technology Centre, located in Woking, U.K. – where the McLaren F1 race cars are designed, built and maintained. It also includes two very good features about Bruce McLaren and Ron Dennis – the men who shaped McLaren – and about each and every one of the team's world champions.
There is also a section detailing what goes on from the arrival of the crew members at the circuit (when they have to set up the garages), right up until the time the cars hit the track, and then how the race proceeds. The readers also learn more about what the team is up to between races; about how complex travelling from one event to the other actually is.
Another section is dedicated to the aerospace-like engineering and manufacturing processes that take place inside the McLaren Technology Centre.
This book reveals the backbone of the sport – it's everything that goes on behind the scene. People tend to forget it's not just about the race cars; it's also about the people, the technology, the passion and the know-how of the team. Even I picked up a few things from this book.
A definite must for every F1 aficionado.
To order your copy of the book,
please click here
.