AKRON, Ohio.
Tires are a big deal. Ever stop and think about all the active safety features on your car? Ever delve into what they all have in common other than a computer? Tires. They rely wholly on your tires.
Tire manufacturers are well aware of the importance of the product they make but very few actually care to the point of investing not only in R&D but also in people, communities and the future.
Bridgestone Americas, Inc. (BSAM), the U.S. subsidiary of Bridgestone Corporation, is one company that knows that a happy, healthy and well cared for staff, although expensive, will in return give the company 110% day-in and day-out.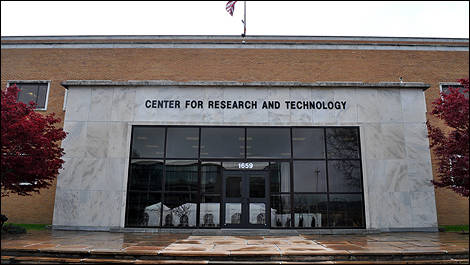 Photo: Mathieu St-Pierre/Auto123.com
I was at the grand opening of its gorgeous new state-of-the-art Americas Technical Center in Akron, Ohio. From an aesthetics standpoint alone, I was sold on the idea of moving into a cubicle on any floor, in any wing, in any department, if only to scribble on the walls (an encouraged way of brainstorming!).
The new $100-million facility houses nearly every aspect of the Research and Development process, from concept (including tires for concept cars), design, compound, reinforcement and various levels of in-house testing (heat, deformation, wear, fuel economy, etc.). From there, the tires are extensively tested at Bridgestone's outdoor test facilities in Fort Stockton, Texas, and Acuna, Mexico.
The building is located in Summit County in — where else? — Firestone Park, between South Main Street and East Firestone Boulevard. The complex has 450 employees, called teammates, who work at developing innovative and advanced tire technologies for the company, for consumers and for a better future.
The facility consists of four floors totaling 260,000 square feet, and is one of five such technical centres Bridgestone Corporation runs worldwide. The other four are located in Rome, Italy; Wuxi, China, and Tokyo and Yokohama, Japan.
Gary Garfield, CEO and President of BSAM, was on hand at the inauguration ceremony along with many other dignitaries who all had glowing things to say about the company that essentially saved the surrounding community. It certainly brought a human element to a multinational company that employs more than 145,000 people worldwide.
The whole experience impressed on me a very positive feeling about the largest tire company in the world. All this leads to the fact that Bridgestone is working extremely hard to make the absolute best tires in the world and not only be the volume leader.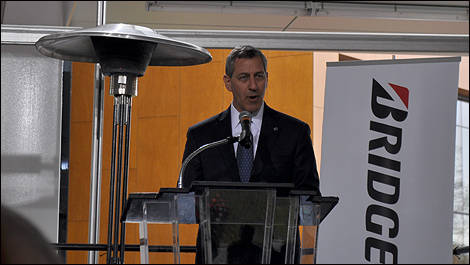 Gary Garfield, CEO and President of BSAM (Photo: Mathieu St-Pierre/Auto123.com)