Auto123.com Racing brings you Bruno Spengler's last column of 2013. The BMW driver and DTM star reviews the last few weeks of the season and contemplates the future.
Hello everyone!
It feels good to be back on Auto123.com for my end-of-year recap. The 2013 season had many highs and lows, but it all wrapped up nicely for me and BMW, which successfully defended its manufacturers' title.
From a personal standpoint, I'm happy with my pole position and third-place finish in Hockenheim, and more importantly, landing among the top 3 in the overall standings. This came after four straight races -- nearly half the season -- without a single point.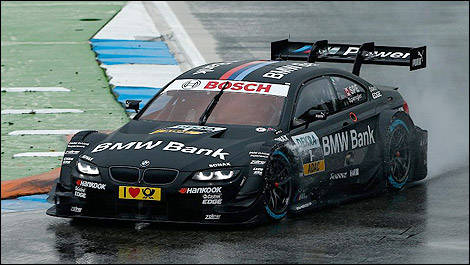 BMW M3 DTM (Photo: BMW Media)
My last performance and overall position alleviate the disappointment that comes from a relatively frustrating season. Finishing in the top 3 is what I was shooting for at the start, so mission accomplished!
After Hockenheim, I participated in a number of media operations including two ''Drive Like Bruno'' sessions hosted by BMW Bank at the Lausitzring, then in Hockenheim. Each one was four days long.
These events began in 2012, and the concept has always been the same: We invite BMW owners with a leasing contract to renew, and offer driving lessons on the track, timed slaloms, some lap time with an open-wheel Formula BMW car, as well as other activities.
Some of the participants have previously won an online contest through a racing simulator, and having them among actual BMW owners is quite interesting and exciting.
The ''Drive Like Bruno'' sessions also include a Ladies Day for women only. The atmosphere is fantastic.
I love doing this promotional stuff. The races demand such a complete planning that we rarely get to interact with fans. With events like these, however, we can really spend quality time together, and I enjoy it a lot.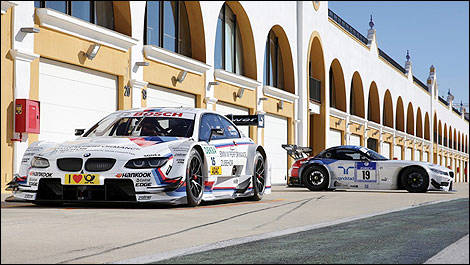 Photo: BMW Media
When that was over, I headed to Spain for four media days at Circuito Monteblanco. This time, only journalists with some driving experience were invited. They got to do a few laps behind the wheel of a Formula BMW car, a BMW Z4, and in some cases, a DTM BMW M3. The tables were sort of turned: We were the ones collecting information!
Later, all the BMW drivers in the DTM championship took part in a Formula BMW race, and it was extremely fun. Heck, I hadn't driven an open-wheel car since my final season of Formula 3 Euro Series... back in 2004!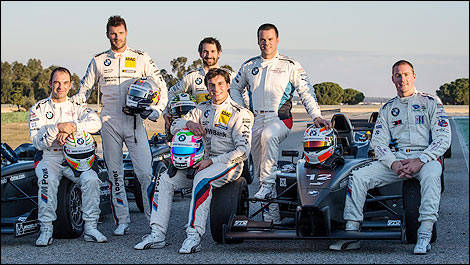 Group shot of the works BMW drivers. (Photo: BMW Media)
We went to Jerez de la Frontera (about 90 minutes from Monteblanco) for several days of testing with our DTM BMW M3 cars. I had a good day on the track before returning home on Thursday.
This past weekend, BMW hosted its annual party, which I happily attended. With the holidays approaching, I will soon fly to Canada to spend a few days with my family and friends, who I don't get to see as much as I would like.
I intend to make the most of this well-deserved break, and get back in top shape ahead of the 2014 season.
See you next year!
Bruno Spengler