Antoine L'Estage and Nathalie Richard, driving a Mitsubishi Lancer Evo X, captured victory this past weekend at the Rallye Defi held near Ste. Agathe, Quebec, round of the Canadian Rally Championship.
L'Estage and Richard opened up a lead over the first two stages, though only 3.9 seconds over Pat Richard and Leanne Junnila, their main rivals in a Subaru Impreza STI. However a navigational error forced them to cover extra distance prior to the first stage, resulting in the team running out of fuel after the first stage.
They were towed to the refuelling location – against the rules – and continued in the rally. They were excluded from the event for getting the tow.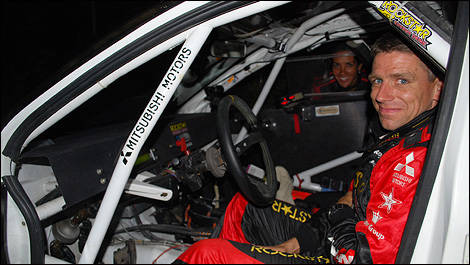 Antoine L'Estage, Mitsubishi (Photo: Rene Fagnan/Auto123.com)
"Crazy" Leo Urlichich and Martin Brady drove their Impreza STI to second place overall, matching his career best finish despite suffering differential problems and a flat tire.
Rounding out the podium were Craig Henderson and Lyne Murphy, also driving a Subaru Impreza. The pair had struggled early in the event, with the car being down on power, but once they had it fixed, they worked up through the order to finish a comfortable third place.
The 2011 season continues with the Pacific Forest Rally, in Merritt, B.C., September 30 and October 1, 2011.
Top photo: Melina Lamoureux/WRS