Antoine L'Estage and his codriver Alan Ockwell of the Yokohama Canada Rally Team won the 2014 edition of the Rallye Defi by winning every stage of the rally.
They drive their Mitsubishi Lancer EVO to overall victory on the hard packed gravel roads in the Quebec Laurentians.
The Rallye Defi was the third round of the Canadian Rally Championship and it featured over 175km of competitive special stages split over two days of racing.
"It's been a textbook rally for us," said L'Estage. "We did have some problems with the car today, so we had to turn down the boost to make sure it stayed reliable to the finish.
"The Yokohama tires were really good in the rough stuff yesterday and today. I've been with them for ten years, and they're a big part of our success."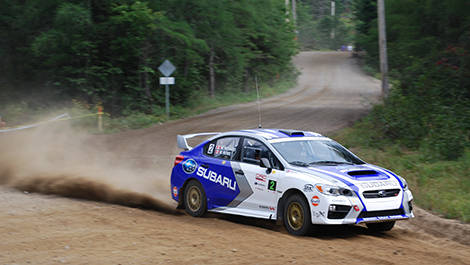 Reportage photos René Fagnan, Paul Fagnan et Delphée Benoit.
Martin Rowe and Nathalie Richard contested Rallye Defi as their first event competing together. The Subaru Rally Team Canada duo debuted the new 2015 Subaru Impreza STI rally car.
Despite some teething issues that at points caused the team to drop out of a podium position, a late charge on the final loop of stages was enough to claim second place.
Third place went to Joel Levac and Stephanie Lewis. The result matched their finishing position from the Rallye Baie-des-Chaleurs two months ago. Driving a MINI Countryman [a former WRC race car], the two found they were forced to push themselves faster than ever before.
The two-wheel drive class was full of strong competition.
Chris Greenhouse and Billy Irvin drove through rough conditions on the first day of racing to carve out a small lead over their rivals. The team built on their advantage over the balance of the first day to a lead of two minutes.
Rallye Defi Final Results

1. Antoine L'Estage – Alan Ockwell – one hour, 30 minutes, 01.8 seconds
2. Martin Rowe – Nathalie Richard – 1:33:30.5
3. Joel Levac – Stéphanie Lewis – 1:33:33.8
4. Maxime Labrie – Anick Barrette – 1:34:20.1
5. Jean-Sebastien Besner – Yvan Joyal – 1:35:48.0
6. Sylvain Vincent – Simon Vincent – 1:37:33.8
7. Marc Bourassa – Daniel Paquette – 1:38:00.4
8. Martin Donnelly – Angela Cosner – 1:44:27.6
9. Chris Greenhouse – Billy Irvin – 1:47:04.9
10. Simon Dube – Pat Lavigne – 1:49:11.0