Presented by Continental Tire, the CTCC held two races at the Gilles-Villeneuve Circuit this weekend as part of the prestigious Canadian Formula 1 Grand Prix. A doubleheader that was filled with plenty of action and a few surprises gave everyone involved something to talk about.
Mathieu Audette won the first race in Super Class before getting dethroned by Roger Ledoux during the second round. Michel Sallenbach and Jocelyn Hébert split the Touring Class honours while Normand Boyer won both times in the Spec-B Class.
Qualifying in pole position, the 2013 Super Class champion, Ontarian Scott Nicol (Honda Civic Si) had two very eventful races. During the first, he was quickly passed by Mathieu Audette, before the car's engine forced his retirement just after mid-race. Starting 3rd behind his older brother, Rémy Audette had an even shorter race, DNF' in during the first lap of the race after experiencing accelerator problems. In the lead, Mathieu Audette (Acura RSX) did not have it easy either. He took the chequered flag after holding off Roger Ledoux, who brilliantly finished second in his Subaru. The Lombardi Honda Racing Team completed the podium with third place going to Benjamin Distaulo who debuted a brand new Honda Civic Si and finished in front of teammate and series rookie, Valérie Chiasson. For his inaugural race, the young female driver was constantly improving while maintaining a "Top 8" placing despite gearbox problems during both races.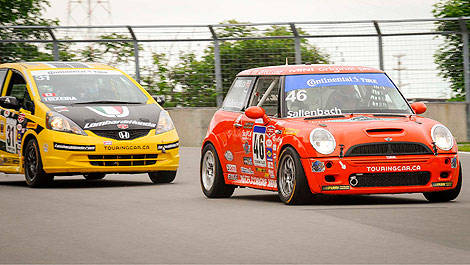 Rui Teixeira, Honda and Michel Sallenbach, MINI. (Photo: Phillip Sutherland/TouringCar.ca)
In Touring Class, the battle between Jocelyn Hébert (Honda) and Michel Sallenbach (Mini) was fairly intense before Hébert was forced to slow down towards the end of the race to prevent running out of gas.  Sallenbach eventually won ahead of Stuart Clark and rookie Samuel Laquerre.
With the B-Spec Class, the spectators that filled the stands at the Gilles-Villeneuve Circuit got their money's worth! The top of the leaderboard changed several times, with the win eventually going to Normand Boyer, ahead of Rui Teixeira and Manuel Boyer.
Presented at the end of Saturday afternoon (the first took place just before the Formula 1 qualifying session), the second race was reduced to an action packed eleven minutes under a blazing sun after Stefan Yasin's big crash in his Mini Cooper, resulting in a broken wrist for the Mississauga driver. Leading until the penultimate lap, Mathieu Audette missed a gear change and was then passed by Roger Ledoux. Completing the podium behind the battling duo was Scott Nicol, ahead of Benjamin Distaulo and Valérie Chiasson who fought off Rémy Audette's push.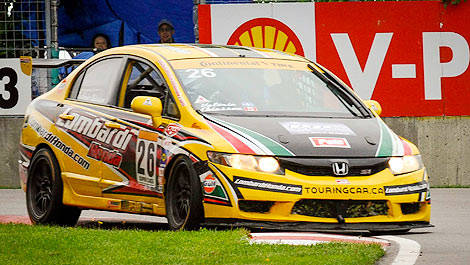 Valérie Chiasson. (Photo: Phillip Sutherland/TouringCar.ca)
In Touring Class, Jocelyn Hébert won by only one tenth of a second over Michel Sallenbach! Samuel Laquerre, Hébert's young teammate, finished third.
Normand Boyer is the only double winner this weekend after two very eventful races. Rui Teixeira and Manuel Boyer finished once again behind the veteran driver.
The next round of the CTCC presented by Continental Tire will take place on June 21 and 22 in Ontario, at the Calabogie Motorsports Park, a 5.5 km road track located southwest of Ottawa.