Audette brothers Rémy and Mathieu complete the sweep of all Canadian Touring Car Championship (CTCC) races for the month of July, as they bagged two more wins at the famous Mont-Tremblant race track.
Earlier this month, the pair had won both rounds of the CTCC raced at ICAR.
Saturday, Mathieu (Acura RSX) proved cleverer than Rémy (Honda Civic Si), who had to settle for second. But come Sunday, engine issues forced Mathieu to surrender. His retirement open the door wide open for Rémy's win.
Scott Nicol (Honda Civic Si), both days, and Roger Ledoux (Subaru STI) on Sunday, shared the podium with the undefeated Audette brothers. In Touring class, Jocelyn Hébert (Honda Civic Si) went home with a two-win tally.
However, it was bad weekend for
Auto123.com
's Nigel Heron, who was sidelined by a crash during qualifying.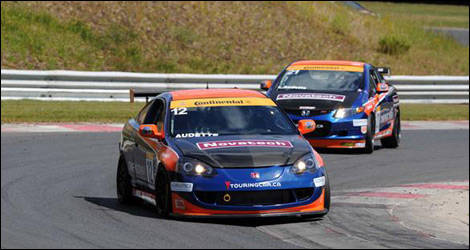 Mathieu devant Rémy (Photo: Marie-Claude Nolin/poleposition.ca)