Ah, September! As summer winds down, memories of family barbecues, beach days and long, sunny days linger in the back of our minds. But even as summer winds down, it's not too late to enjoy a few last road trips and explore landscapes still bathed in sunshine. September can be that golden month, a window of opportunity for road escapades when the crowds have dispersed but the beautiful weather persists. But if these last summer adventures are to be a success, careful preparation is essential. And we're not just talking about checking the oil or inflating the tires. No, we're going beyond the mechanical basics to explore a range of accessories that will make these precious moments even more memorable, safe and comfortable. In this article, we offer you a comprehensive guide to equipment that can be found at your best dealers in Canada or in France at Feu Vert, and that will add a touch of luxury, safe and fun to your latest summer escapades.
Must Haves for Comfort and Safety
If you're planning a long road trip, a few gadgets and equipment can greatly enhance your comfort and safety. Here are a few must-haves:
Smartphone and tablet holders
In our digital age, smartphone and tablet holders have become almost essential accessories. They make it easy to track GPS or keep the kids entertained with movies and games. It's important to choose a sturdy mount that's easy to adjust. Some models even have built-in USB ports for charging your devices.
First-Aid Kits and Tool Kits
A well equipped first aid kit is a must for any road adventure. Make sure it includes bandages, antiseptics, and even basic medications like painkillers. A basic tool kit can also come in handy for minor repairs along the way, such as tightening a screw or replacing a fuse.
Cushions and Headrests
Long trips can be hard on your back and neck. Ergonomic cushions and adjustable headrests can help make your trip more comfortable. Some cushions even have massage or heating functions for a more luxurious experience.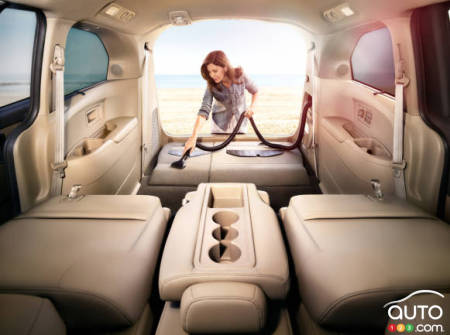 Sunscreens and Tinted Windows
During the summer months, the sun can be merciless. Sun visors and tinted windows can help reduce the heat inside the vehicle, especially if you have children or pets on board.
For fun and entertainment
The journey can be as exciting as the destination if you have the right accessories.
Car refrigerators
A car refrigerator is an investment that quickly pays for itself, especially on hot summer days. From cold drinks to ready-to-eat meals, this gadget can transform your picnics and road stops.
Enhanced Audio Systems
For music lovers, a quality audio system can make all the difference. From Bluetooth speakers to subwoofers, there are plenty of options. Some systems even offer features like ambient noise reduction for the ultimate sound experience.
Kids' Games and Activities
Nothing is more difficult than dealing with impatient kids on a long road trip. Fortunately, there are plenty of options to keep them occupied. From colouring books to electronic games, puzzles and interactive toys, the choice is yours.
Multiple Adapters and Chargers
With all these gadgets, you'll need plenty of power. A multiple charger can be a lifesaver, allowing you to charge multiple devices at once.
Little extras that make all the difference
Dash Cameras
A dash cam can be your best witness in the event of an accident or road rage incident. It can also capture unforgettable moments on the road.
Radar Detectors
To avoid unexpected fines, a radar detector can be a good investment. Just make sure they're legal in the jurisdiction where you're travelling.
Conclusion
The key to a successful trip, especially when it comes to these latest September adventures, is in the details. It's not just about the route you take or the places you visit, but how you get there. A comfortable, well-equipped ride can mean the difference between an enjoyable trip and a stressful experience. As you've seen, the right selection of automotive accessories can literally transform your trip, making it as enjoyable as the destination itself. So as summer draws to a close, take a moment to list the accessories that will make your last summer road trip a memorable one. Between the comfort of ergonomic cushions, the convenience of smartphone holders, and the safety of a well-stocked first aid kit, every detail counts. Equip wisely and you'll maximize every moment on the road and make this last chapter of summer a memorable one.