Many observers where expecting a major slow down at the annual
Speciality Equipment Market Association (SEMA)
show held this week in Las Vegas. But it was not so. Granted, there were some major providers missing, namely Goodyear, Michelin and Bridgestone at the tire pavilion, but as far as car brands are concerned, most manufacturers came up with interesting concept vehicles mostly oriented towards performance and customizing.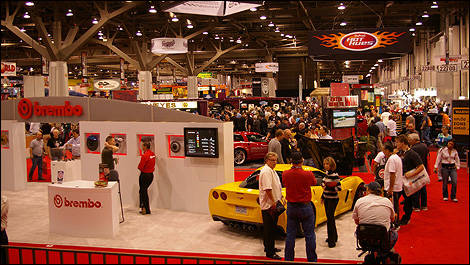 Though the economy has slowed down in the States, it was business as usual at SEMA.
GM was one of the most important as its new Camaro was the star car of the event. GM had a few custom 2009 Camaros at its stand but Chrysler was also well represented with many modified
2009 Challengers
and some new
Dodge Ram
pick-up trucks. Ford made a major splash with a Cobra Jet version of its actual Mustang and a host of new Flexes modified by many legendary names. Its other major star was the 2010 Ford F-150 SVT Raptor, a full fledge off-road pick-up that will sold by dealers very soon.
There were also quite a few Asian brands in the show including Hyundai that showed off its new Genesis coupes and sedans in many modified forms. Honda was there with a promise of performance parts for its new Fit while Toyota showed up with a mildly customized version of its new Venza crossover. The Nissan stand was well represented with many of its vehicles modified by specialized shops including the new Maximas and Infiniti G37s. Mazda had customized Mazda6s at its stand while Subaru had interesting concept cars including a full-time 4 x 4 Forester Rescue Unit designed for ski teams. Kia used its new Borrego SUV and upcoming Soul to be modified by professional teams just like Volkswagen used such teams to modify its Passat CCs shown at its stand. Finally, Suzuki officially introduced its Equator pick-up truck to the SEMA crowd.
In the very popular wheel and tire pavilion, one could see some 42-inch prototype wheels (obviously without tires) from Asani while Korean manufacturer Kumho unveiled a spectacular 15-series tire at a local hotel. Many tire manufacturers also unveiled new products including performance and...winter tires!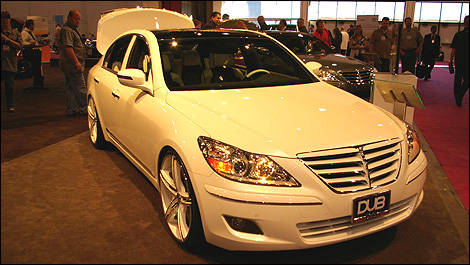 Hyundai's new Genesis was already modified for the SEMA show.
photo:
Éric Descarries