Ford will have two distinctive Flex models to show off at this year's Specialty Equipment Market Association (SEMA) show in Las Vegas, thanks to customizing legends Chip Foose and Funkmaster Flex.
Though the new Flex model won't hit dealerships until next summer, Ford convinced the popular pair to help customers start imagining what's possible with a bit of customization of their all-new people-mover. Though each star brings their own taste to the Flex, each remains true to the machine's core design.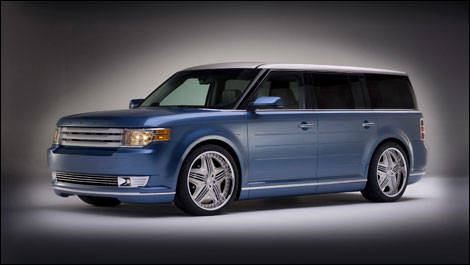 Chip Foose
Foose focuses on suburban styling, with a taste of contemporary luxury that accentuates existing looks. Lowered springs plant the Flex's body down firmly atop a set of 22-inch wheels, and the exterior features a custom-mixed two-tone paint job in blue and pearl. A similar theme with 3 tone leather carries on inside.
"When Ford called, I was quite excited to be one of the first to get my hands on the Flex," says Foose. "I didn't want the individual pieces I added to be the most eye-catching parts. I wanted it to look as if it came from Ford's design studio."
Funkmaster Flex's approach consists of a faux aluminum finished roof, brandywine paint job, and 3D carbon fibre accenting on the inside. The all black interior is set off with alligator print inserts and steel-colored stitching on the seats and trim. Of course, there are plenty of TV screens and a monstrously powerful stereo installed, to keep the party going inside the vehicle.
"I know what this vehicle is going to be in the urban market: It's going to be killer!" says Funkmaster Flex. "Whether you're flossin' with your friends, going to the club or riding around with your girl, the Ford Flex is the next urban street vehicle, and Flex2 is my interpretation of the ultimate in street luxury."
"The Ford Flex elicits emotional responses from people unlike any vehicle in recent memory, yet customers have distinct interpretations of how the Flex can fit into their lifestyle," says Kate Pearce, Ford Flex marketing plans manager. "Bringing Flex to SEMA before the production vehicle's launch gives us an opportunity to explore the endless possibilities within the world of customization - and to help further broaden the vehicle's strong appeal."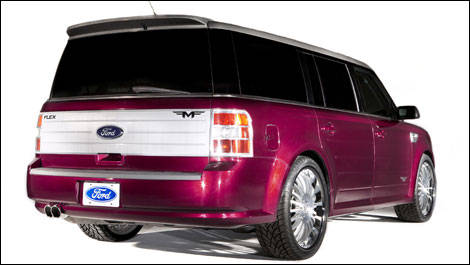 Funkmaster Flex
photo:
Ford