Thinking of buying a pre-owned vehicle in 2017? Naturally, Auto123.com is your ideal starting point to begin your research! If one of the questions you have is which automotive brands are the most dependable, take note that J.D. Power has just published its latest study ranking vehicle dependability.
The study examines the number of problems encountered over the past 12 months by original owners of 2014 model-year vehicles. Ranking is determined on a 100-vehicle pro-rata basis.
This year's study results show Lexus and Porsche sharing the top spot; for the former, this is the sixth straight year it holds down this enviable position. Rounding out the podium behind the two winners is Toyota, followed by Buick and Mercedes-Benz.
The German luxury automaker is followed by Hyundai, which according to J.D. Power showed the biggest improvement in terms of dependability. Its sixth-place ranking this year is a sharp improvement over 2016, when it held the 19th position. Other brands that moved up the rankings this year include Dodge, Ford and Land Rover.
Here is a detailed chart of the ranking: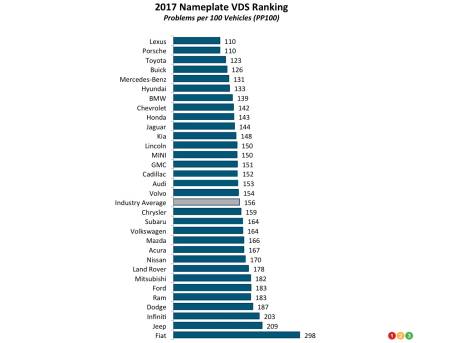 As for the most dependable car, SUV and truck models in 2017, the following vehicles came out on top in their categories:
Cars
- Small Car: Chevrolet Sonic
- Compact Car: Toyota Prius
- Compact Premium Car: Lexus ES
- Midsize Car: Toyota Camry
- Midsize Sporty Car: Chevrolet Camaro
- Midsize Premium Car: Lexus GS
- Large Car: Toyota Avalon
SUVs and Trucks
- Small SUV: Volkswagen Tiguan
- Compact SUV: Toyota FJ Cruiser
- Compact Premium SUV: Mercedes-Benz GLK
- Compact MPV: Toyota Prius v
- Midsize SUV: Toyota Venza
- Midsize Premium SUV: Lexus RX
- Midsize Pickup: Honda Ridgeline
- Minivan: Toyota Sienna
- Large SUV: Chevrolet Tahoe
- Large Light-Duty Pickup: Ford F-150
- Large Heavy-Duty Pickup: Chevrolet Silverado HD
For detailed results of the study, visit the J.D. Power website.