For those of you who can remember the arrival of the minivan at Dodge and Chrysler in 1984, what you're about to read won't make you feel any younger. At the 2019 Chicago Auto Show taking place this week, Fiat Chrysler Automobiles will unveil special 35th anniversary editions of its Dodge Grand Caravan and Chrysler Pacifica.
That's right, the trustiest of trusty old minivans is turning 35.
The versions that will honour the three-and-a-half decades of the Grand Caravan will feature a special all-black interior with contrasting stitching in a colour FCA refers to as "Cranberry Wine". Unique badging will be splayed about here and there, and the list of included features is longer than in the regular versions. Both the regular and hybrid versions of the Pacifica will get the same treatment. Both models will also get the S esthetic treatment, which makes black the default colour choice on the outside as well as inside.
The SE and SXT trims of the Dodge Grand Caravan will be the ones to get the 35th anniversary treatment.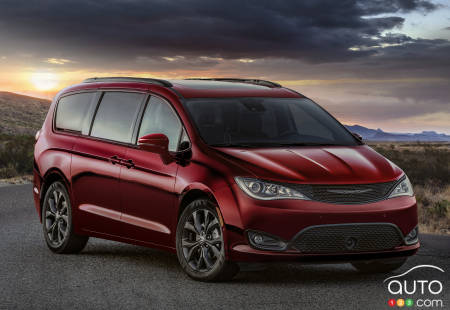 It adds up to a rather timid way to mark the 35 years of existence of this ground-breaking minivan, but then it's not like people have been clamouring for this kind of special edition. Let's guess there might not be a stampede of buyers rushing to get theirs before they're lapped up.
A more discreet approach just seems more appropriate, then.
Still, the anniversary does merit some kind of honour. The FCA Group says it has sold around 14.6 million minivans since 1983, which is more than double the company's nearest competitor in the segment. Last year, FCA gobbled up 55% of the market for minivan sales.
After their big premieres this week in Chicago, the plan is for the special editions of the Dodge Grand Caravan and Chrysler Pacifica to make their appearance at dealerships over the course of the summer.