After 50 hours, 20 minutes, and six seconds, Vintage Adventurer Rod Wade and co-driver Michael Flanders finished their journey from New York to California aboard a 1930 Ford Model A, in the process setting a new world record for driving a pre-war automobile across the U.S.
More precisely, the two men began the 4,800-km trek at Staten Island at 00:01 am on Friday, November 22nd. Despite horrendous weather conditions, including rain storms, extreme winds, and even snow through New Mexico, they reached Venice Beach just after 11:15 pm on Saturday, November 23rd.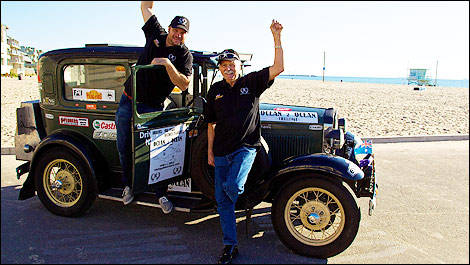 Arrival at Venice Beach, California. (Photo: Rod Wade and Michael Flanders)
At one point, Wade and Flanders had to stop every five kilometres to clear the windscreen of ice because there is no heated windscreen on the Model A.
In an earlier attempt in October, their car suffered a broken crankshaft after 38 hours of driving.
The goal was to raise awareness and funds to support kidney disease sufferers all over the world. The Vintage Adventurer team will now take on the Ocean to Ocean Australia, driving from Queensland to Freemantle but also making the return journey. This is scheduled for June 2014.
Source: Poppyseed Media