Mercedes DTM boss Wolfgang Schattling described the stewards' decision to blackflag Robert Wickens in Austria as "incomprehensible".
Wickens was racing for the win, Sunday at the Red Bull Ring, when the stewards disqualified the Canadian after he ignored a drive-through penalty.
Actually it was Mercedes who told Wickens to stay out, because the team thought race control had mixed up the 25-year-old with Pascal Wehrlein, another Mercedes driver who, like Wickens, was released unsafely after his pit stop.
"Robert secured a fantastic pole position on Saturday and was leading the race. His tussle with Augusto Farfus was world class," said Schattling.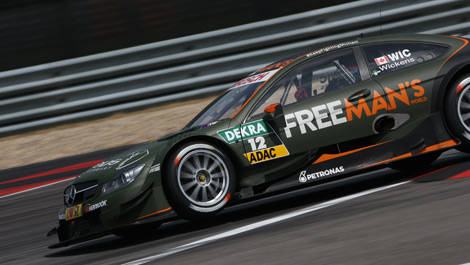 Robert Wickens, Mercedes AMG C-Coupé (Photo: WRi2)
"Unfortunately, the race stewards then took what was for us a surprising and incomprehensible decision. In our view, there was no unsafe release after Robert's pit stop.
"We tried to speak to the stewards during the race, because we thought that they had possibly mixed up the incident of Pascal Wehrlein leaving the pit lane with that of Wickens.
"That's why Robert stayed out so long."