From press release
Belgian Maxime Martin sparked a huge surprise in qualifying for the DTM race at Moscow Raceway. With his BMW M4 DTM, the rookie driver completed his best lap of the demanding track near Moscow in 1min28.619s and thus outpaced his seasoned fellow BMW driver, Canadian Bruno Spengler.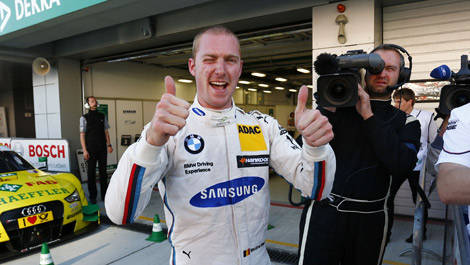 Maxime Martin was overjoyed by his maiden pole position in the DTM (Photo: DTM.com)
For the 28-year-old, joy about his first starting grid position for only his fifth DTM race was boundless: "This is just fantastic! We keep getting better and better and it is great that I already scored my first pole at only my fifth attempt. I really like the track here in Moscow. On top of that, the car was simply great. In the race, I want to get the best out of it," the BMW driver said.
Martin wasn't the only DTM novice to shine in qualifying. Swiss Nico Müller also showed a convincing performance, qualifying a strong third as the best-placed Audi driver.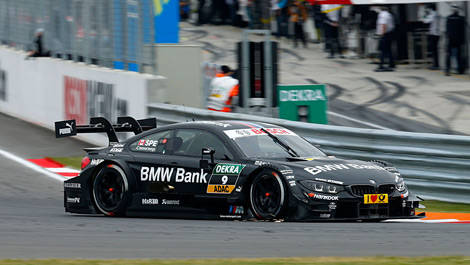 Bruno Spengler, BMW M4 DTM (Photo: DTM.com)
"A good day for me. Making it into the third qualifying heat was my goal. That worked out and I even made it into third place. This is my best DTM qualifying result to date. I got a lot out of the car, but not everything yet. That is what I intend to do tomorrow," the best-placed driver of an Audi RS 5 DTM commented.
Reigning DTM champion Mike Rockenfeller (Audi) is lining up on the second row of the grid alongside Müller.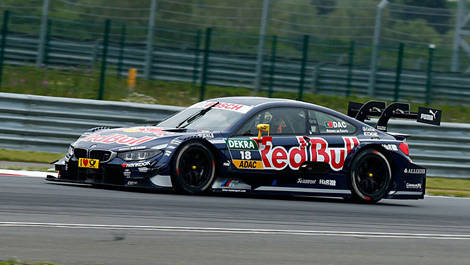 Antonio Felix da Costa, BMW M4 DTM (Photo: DTM.com)
Robert Wickens had to accept a setback. The Canadian, who scored his first win of the season at Norisring, ended up 14th in qualifying.
"Prior to qualifying, we still hade made some changes on the car, but unfortunately, they didn't work out as we had intended. Now, my goal is to still score some points in the race. Because of the long straight, the DRS certainly has a big effect. The tyre strategy will be important, too. We will see what the race will bring," the 25-year-old said.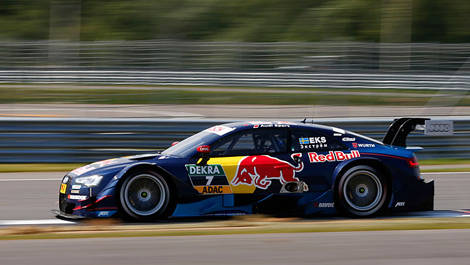 Mattias Ekstrom, Audi RS 5 (Photo: DTM.com)
Qualifying results – Moscow International Raceway
1.Maxime Martin (BMW M4) - RMG - 1'28"619 - Q3
2.Bruno Spengler (BMW M4) - Schnitzer - 1'28"638 - Q3
3.Nico Muller (Audi RS5) - Rosberg - 1'28"714 - Q3
4.Mike Rockenfeller (Audi RS5) - Phoenix - 1'28"714 - Q3
5.Adrien Tambay (Audi RS5) - Abt - 1'28"754 - Q3
6.Augusto Farfus (BMW M4) - RBM - 1'28"760 - Q3
7.Marco Wittmann (BMW M4) - RMG - 1'28"844 - Q3
8.Miguel Molina (Audi RS5) - Abt - 1'28"925 - Q3
9.Jamie Green (Audi RS5) - Rosberg - 1'28"805 - Q2
10.Timo Glock (BMW M4) - MTEK - 1'28"855 - Q2
11.Mattias Ekstrom (Audi RS5) - Abt - 1'28"932 - Q2
12.Edoardo Mortara (Audi RS5) - Abt - 1'28"980 - Q2
13.Antonio Felix Da Costa (BMW M4) - MTEK - 1'29"058 - Q2
14.Robert Wickens (Mercedes C-Coupe) - HWA - 1'29"148 - Q2
15.Daniel Juncadella (Mercedes C-Coupe) - HWA - 1'29"231 - Q2
16.Joey Hand (BMW M4) - RBM - 1'29"270 - Q2
17.Timo Scheider (Audi RS5) - Phoenix - 1'29"425 - Q2
18.Paul Di Resta (Mercedes C-Coupe) - HWA - 1'29"509 - Q2
19.Martin Tomczyk (BMW M4) - Schnitzer - 1'29"749 - Q1
20.Pascal Wehrlein (Mercedes C-Coupe) - HWA - 1'29"836 - Q1
21.Gary Paffett (Mercedes C-Coupe) - HWA - 1'29"925 - Q1
22.Christian Vietoris (Mercedes C-Coupe) - HWA - 1'30"031 - Q1
23.Vitaly Petrov (Mercedes C-Coupe) - Mucke - 1'30"443 - Q1