Audi's Mike Rockenfeller ended up first of the qualifying session that preceded the first ever DTM race in Russia. Amazingly, the session was cut short by the Russian president himself.
It was cut short after three of four segments because a ban in the airspace over the track grounded the rescue helicopter. The unscheduled ban was allegedly to allow Russian president Vladimir Putin's plane through.
The ground rescue helicopter (Photo: DTM.com)
The starting order was therefore set by the results of Q3, which had championship leader Rockenfeller in first, his teammate Mattias Ekström in second and BMW's Augusto Farfus in third.
Reigning champion Bruno Spengler (BMW) ended up fourth.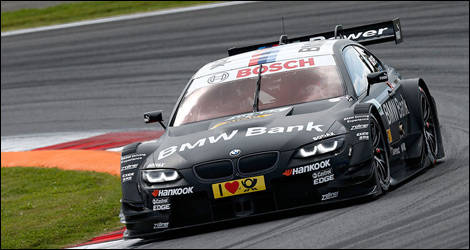 Bruno Spengler, BMW M3 (Photo: DTM.com)
Former F1 driver Timo Glock (BMW) will start only 17th, one place ahead of Canadian Robert Wickens (Mercedes-Benz), who finished a career-best second at the Norisring last month.
The start of the much anticipated first ever DTM race in Russia, which will cover 74 laps of the Hermann Tilke-designed Moscow Raceway, is scheduled for Sunday.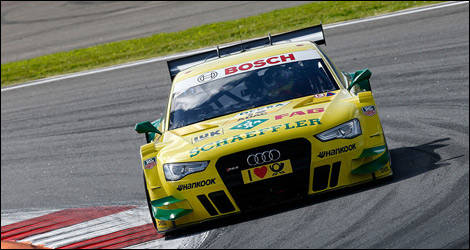 Mike Rockenfeller, Audi RS 5 (Photo: DTM.com)
Qualiyfing results – Moscow Raceway (Russia)
1.Mike Rockenfeller (Audi RS5) - Phoenix - 58"423 - Q3
2.Mattias Ekstrom (Audi RS5) - Abt - 58"604 - Q3
3.Augusto Farfus (BMW M3) - RBM - 58"677 - Q3
4.Bruno Spengler (BMW M3) - Schnitzer - 58"694 - Q3
5.Jamie Green (Audi RS5) - Abt - 58"749 - Q3
6.Dirk Werner (BMW M3) - Schnitzer - 58"779 - Q3
7.Gary Paffett (Mercedes C-Coupé) - HWA - 58"831 - Q3
8.Pascal Wehrlein (Mercedes C-Coupé) - Mucke - 58"843 - Q3
9.Daniel Juncadella (Mercedes C-Coupé) - Mucke - 58"985 - Q3
10.Christian Vietoris (Mercedes C-Coupé) - HWA - 59"038 - Q3
11.Miguel Molina (Audi RS5) - Phoenix - 58"907 - Q2
12.Adrien Tambay (Audi RS5) - Abt - 58"910 - Q2
13.Filipe Albuquerque (Audi RS5) - Rosberg - 58"914 - Q2
14.Timo Scheider (Audi RS5) - Abt - 58"954 - Q2
15.Joey Hand (BMW M3) - RBM - 59"013 - Q2
16.Edoardo Mortara (Audi RS5) - Rosberg - 59"133 - Q2
17.Timo Glock (BMW M3) - MTEK - 59"177 - Q1
18.Robert Wickens (Mercedes C-Coupé) - HWA - 59"285
19.Martin Tomczyk (BMW M3) - RMG - 59"286
20.Marco Wittmann (BMW M3) - MTEK - 59"400
21.Andy Priaulx (BMW M3) - RMG - 59"442
22.Roberto Merhi (Mercedes C-Coupé) - HWA - 59"467