German car manufacturer Audi unveiled Tuesday the new R18 e-tron Quattro destined to endurance racing.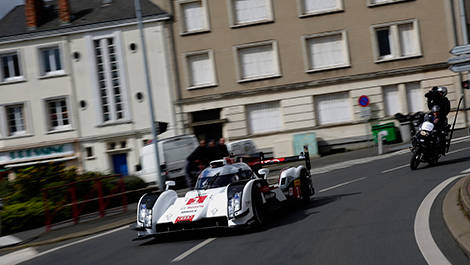 Audi R18 e-tron quattro 2014 (Photo: Audi Motorsport)
The new Audi R18 e-tron quattro did not do its initial kilometers at Le Mans on the legendary race track in Western France but in public traffic.
Audi factory driver Tom Kristensen, with nine victories under his belt the record holder of the Le Mans 24 Hours, drove the diesel hybrid sports car from the Saint-Julien du Mans cathedral in the city center to the famous race track.
The new color scheme of white, silver, red and black stands for fresh, expressive graphics.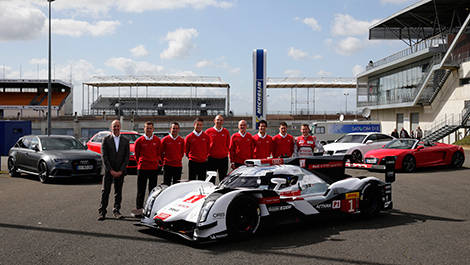 Audi R18 e-tron quattro 2014 (Photo: Audi Motorsport)
The cubic capacity of the V6 TDI power plant was increased from 3.7 to four liters in order to further optimize the engine that had already been very efficient.
After testing various energy recovery systems, Audi decided to compete in the class of up to two megajoules of recuperation energy at Le Mans. The energy exclusively flows through a motor generator unit (MGU) at the front axle and is stored in a flywheel energy storage system.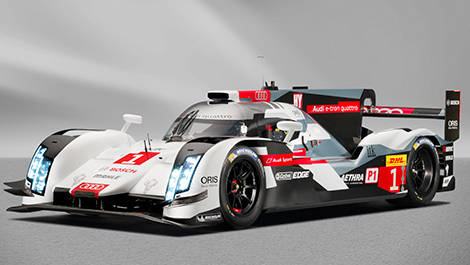 Audi R18 e-tron quattro 2014 (Photo: Audi Motorsport)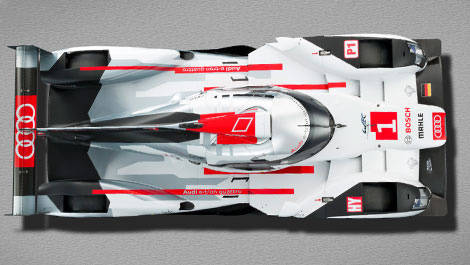 Audi R18 e-tron quattro 2014 (Photo: Audi Motorsport)