From press release
Chrysler Group LLC announced Monday that it is discontinuing the factory-backed SRT (Street and Racing Technology) Motorsports racing program in IMSA (International Motor Sports Association) with the conclusion of the 2014 season.
This decision affects participation in the IMSA TUDOR United SportsCar Championship with the Dodge Viper SRT GTS-R GTLM-class team. The Dodge brand will redirect its focus and efforts on the brand's product line-up.
The Dodge Viper SRT GTS-R 2014 racing season concluded Saturday, Oct. 4 at the Petit Le Mans.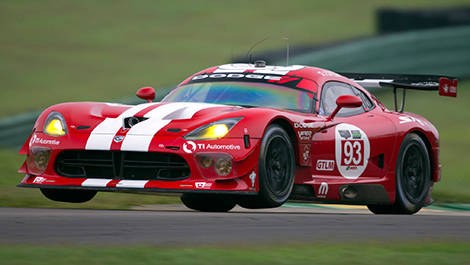 SRT Dodge Viper GTS-R (Photo: Richard Prince/SRT Motorsport)
The two-car SRT Motorsports team won the team and driver titles with Canadian Kuno Wittmer in the inaugural IMSA TUDOR United SportsCar Championship GTLM-class.
SRT Motorsports won two-of-three championships contested in the class and finished second in the GTLM manufacturer championship in just its second full year of the program.
As the company announced May 6, the SRT brand will continue to be aligned with the Dodge brand, delivering SRT ultimate performance vehicles to complement the Dodge brand's mainstream performance vehicles.