That breathy sound you're hearing is the collective sigh of Lotus fans and roadster lovers the world over. The Exige S Roadster will be the Brit's fastest roadster ever, with an eye-watering 0-100 km/h time of 4 seconds flat; 0-160 takes 8.5 seconds, and its top speed is 233 km/h, all thanks to a supercharged 3.5-litre V6, a six-speed manual shifter, and a feathery targeted weight of just under 1,100 kg.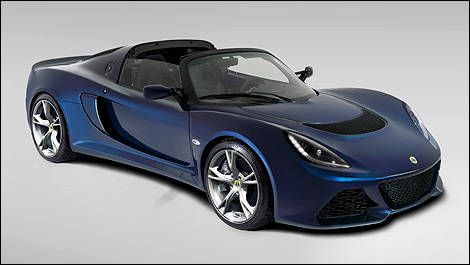 Photo: Lotus
Optional is Lotus's Serial Precision Shift (SPS) paddle-operated automated manual, for a little F1 panache. An optional suspension setting as part of the Race Pack was developed for track use and allows activation of a launch control system.
"Stylish minimalism and functionality" are promised in the interior, which means don't go looking for cupholders and handy binnacles. We're talking about a car whose purpose is a) to impress the heck out of your neighbours and b) go really fast. A comfort-enhanced, plusher interior is optional.
Factory-fitted soft-top, reasonable fuel economy (est. 10.1L/100km combined), low emissions and blistering speed — too bad none of it crossing the pond. If you want one, you'll have to ship it, or emigrate.