Lotus' Romain Grosjean set the pace during Friday morning's first free practice session, but newly crowned 2013 champion Sebastian Vettel put his Red Bull RB9 on top of the charts in the afternoon in Abu Dhabi.
Third place finisher in India a week ago, Grosjean clocked the fastest time in an opening session, setting a time of 1m44.241 in the closing stages to edge out Mercedes' Lewis Hamilton by 0.192s.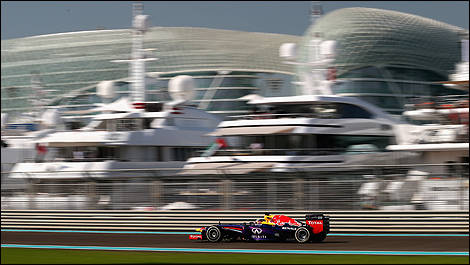 Sebastian Vettel, Red Bull (Photo: Red Bull)
Vettel finished the 90-minute session in third place with a 1m44.499 ahead of his Red Bull Racing teammate Mark Webber, with the second respective Mercedes and Lotus cars of Nico Rosberg and Kimi Raikkonen completing the top six.
Ferrari experienced some problems on the slippery Yas Marina circuit with Fernando Alonso down in 12th and Felipe Massa 17th. In fact, numerous drivers had small moments where they inadvertently cut chicanes or ran briefly off the road.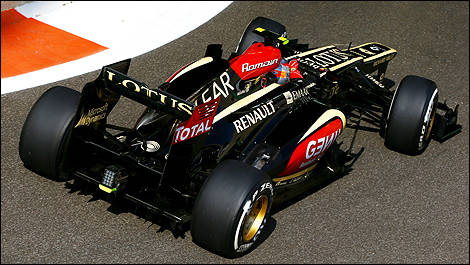 Romain Grosjean, Lotus (Photo: WRI2)
However, it was a slightly different story in the second free practice session.
Red Bull Racing set their seventh P2 one-two of the season as Vettel set the fastest time of the day with a 1m41.335, beating Webber by 0.155 second.
Hamilton led the chase in his Mercedes to set the third fastest time ahead of last year's surprise winner, Kimi Raikkonen in a Lotus.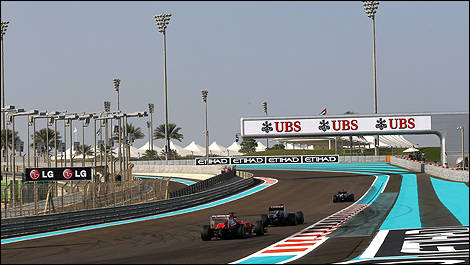 Yas Marina circuit (Photo: WRI2)
Both Lotuses proved to be quick in race trim and on medium Pirelli tires and they could provide Red Bull's sternest challenge this weekend.
Rosberg was fifth fastest in his Mercedes ahead of Sergio Pérez and Jenson Button of McLaren (the team trying low-drag rear wings), Alonso, Nico Hulkenberg in his Sauber and Massa.
Fastest in FP1, Grosjean was only 12th quickest. His E21-Renault suffered brake problems and then a vibration.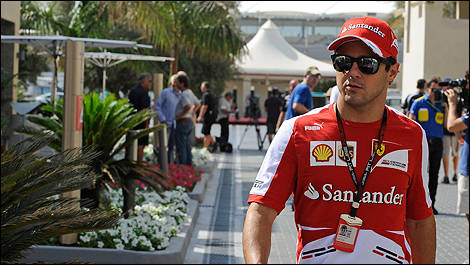 Felipe Massa, Ferrari (Photo: WRI2)
Grand Prix of Abu Dhabi, Yas Marina circuit, Friday 1st practice session*
1 - Romain Grosjean (Lotus E21-Renault) - 1'44"241 – 21 laps
2 - Lewis Hamilton (Mercedes W04) - 1'44"433 - 23
3 - Sebastian Vettel (Red Bull RB9-Renault) - 1'44"499 - 18
4 - Mark Webber (Red Bull RB9-Renault) - 1'44"712 - 20
5 - Nico Rosberg (Mercedes W04) - 1'44"741 - 24
6 - Kimi Raikkonen (Lotus E21-Renault) - 1'44"929 - 23
7 – Paul Di Resta (Force India VJM06-Mercedes) - 1'45"040 - 20
8 - Jenson Button (McLaren MP4/28-Mercedes) - 1'45"099 - 20
9 - Pastor Maldonado (Williams FW35-Renault) - 1'45"150 - 24
10 - Sergio Perez (McLaren MP4/28-Mercedes) - 1'45"331 - 20
11 - Nico Hulkenberg (Sauber C32-Ferrari) - 1'45"378 - 23
12 - Fernando Alonso (Ferrari F138) - 1'45"440 - 18
13 - Valtteri Bottas (Williams FW35-Renault) - 1'45"823 - 22
14 - James Calado (Force India VJM06-Mercedes) - 1'45"924 - 20
15 - Esteban Gutierrez (Sauber C32-Ferrari) - 1'46"068 - 18
16 - Jean-Eric Vergne (Toro Rosso STR8-Ferrari) - 1'46"114 - 22
17 - Felipe Massa (Ferrari F138) - 1'46"124 - 18
18 - Daniel Ricciardo (Toro Rosso STR8-Ferrari) - 1'46"126 - 21
19 - Charles Pic (Caterham CT03-Renault) - 1'47"600 - 22
20 – Heikki Kovalainen (Caterham CT03-Renault) - 1'47"670 - 22
21 - Jules Bianchi (Marussia MR02-Cosworth) - 1'47"723 - 23
22 - Max Chilton (Marussia MR02-Cosworth) - 1'49"565 - 22
Grand Prix of Abu Dhabi, Yas Marina circuit, Friday 2nd practice session*
1 - Sebastian Vettel (Red Bull RB9-Renault) - 1'41"335 – 34 laps
2 - Mark Webber (Red Bull RB9-Renault) - 1'41"490 - 32
3 - Lewis Hamilton (Mercedes W04) - 1'41"690 - 37
4 - Kimi Raikkonen (Lotus E21-Renault) - 1'41"726 - 42
5 - Nico Rosberg (Mercedes W04) - 1'41"758 - 41
6 - Sergio Perez (McLaren MP4/28-Mercedes) - 1'42"006 - 36
7 - Jenson Button (McLaren MP4/28-Mercedes) - 1'42"010 - 31
8 - Fernando Alonso (Ferrari F138) - 1'42"171 - 31
9 - Nico Hulkenberg (Sauber C32-Ferrari) - 1'42"324 - 41
10 - Felipe Massa (Ferrari F138) - 1'42"440 - 36
11 - Esteban Gutierrez (Sauber C32-Ferrari) - 1'42"509 - 39
12 - Romain Grosjean (Lotus E21-Renault) - 1'42"607 – 18
13 – Paul Di Resta (Force India VJM06-Mercedes) - 1'42"806 - 27
14 - Pastor Maldonado (Williams FW35-Renault) - 1'42"952 - 36
15 – Adrian Sutil (Force India VJM06-Mercedes) - 1'42"998 - 27
16 - Daniel Ricciardo (Toro Rosso STR8-Ferrari) - 1'43"152 - 29
17 - Jean-Eric Vergne (Toro Rosso STR8-Ferrari) - 1'42"271 - 36
18 - Valtteri Bottas (Williams FW35-Renault) - 1'43"565 - 36
19 – Giedo Van Der Garde (Caterham CT03-Renault) - 1'44"138 - 35
20 - Jules Bianchi (Marussia MR02-Cosworth) - 1'44"459 - 35
21 - Charles Pic (Caterham CT03-Renault) - 1'44"525 - 38
22 - Max Chilton (Marussia MR02-Cosworth) - 1'44"565 – 27
*Unofficial timing