Red Bull youngster Daniel Ricciardo has out-qualified his four-time world champion teammate Sebastian Vettel for the sixth time this season.
Ricciardo managed to qualify fifth in Spielberg, on Red Bull's very own track.
"It was tough out there," admitted the Australian. "It's been tough all weekend to be honest and it's felt like we've had to squeeze everything out of the car to get into the top five, which we just managed to do today."
"Fifth was the best we could have done in that session today."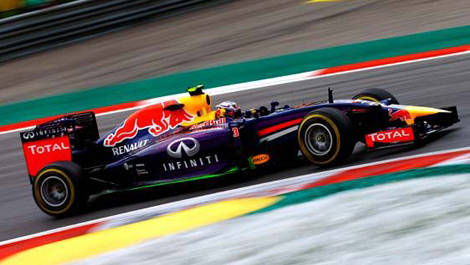 Daniel Ricciardo, Red Bull RB10 (Photo: WRi2)
Vettel, who was a distant 13th, had no explanation for his bad showing.
"There were no real problems today, other than that we weren't quick enough. Daniel was quicker in Turn 5 and has been quicker in Turn 2 all weekend. We'll see how it goes for the race; it should be hotter tomorrow and hopefully we can make a big step and take on some of the other cars."
"Sebastian struggled to generate the pace over a single lap and it was obviously disappointing not to make it through into Q3," added his boss Christian Horner.
"More encouragingly, our race pace looks better and hopefully if temperatures increase, we'll be pushing to make a lot of headway tomorrow in front of Red Bull's home crowd."