Formula 1's world expansion will continue in 2016 after
Azerbaijan signed a deal to stage a "Grand Prix of Europe"
.
The race will be staged around a new street circuit in the country's capital Baku.
Baku presented a street race for GT machinery in recent years.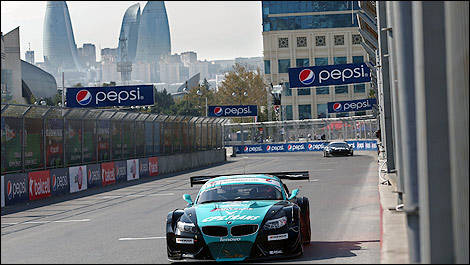 Jacques Villeneuve driving the BMW Z4 in the Baku street circuit, in 2012. (Photo: WRi2)
Just days after the announcement of the return of the Mexican Grand Prix in 2015, Azerbaijan - a country rich in oil - has received the green light to join the schedule from 2016.
Few details have emerged, but the race will run on a new street circuit being constructed in the city with Baku's old medieval area.
"I am delighted to officially announce we have signed a contract to bring Formula 1 racing to Baku in 2016," declared Azerbaijan's minister of youth and sport Azad Rahimov in a statement.
"We are very happy Baku has joined the Formula One family. This will be a street race, which will pass through interesting and picturesque parts of Baku, and will meet the current Formula One criteria", said Bernie Ecclestone.
Sky Sports F1
reports that the 2015 F1 calendar, which stands at 19 events this year, could also include the addition of the prospective Grand Prix of America in New Jersey following two consecutive delays. However, Ecclestone has said that 2015 is still too early for organisers.