From Formula1.com

Formula One group CEO Bernie Ecclestone and Azad Rahimov, Azerbaijan's Minister of Youth and Sport, unveiled the layout of the new Hermann Tilke-designed Baku European Grand Prix street circuit at a special press event in Baku, Azerbaijan on Tuesday.
The Baku European Grand Prix will take place in 2016 and Tuesday's event saw Mr Ecclestone and Minister Rahimov presenting the layout of the street circuit that will see Formula 1 cars racing through the streets of Baku on F1's newest track.

Photo: Baku Grand Prix
Hermann Tilke, CEO Tilke Engineering: "I am absolutely thrilled about the Baku European Grand Prix project and delighted we can now unveil the track design. We have created a challenging street circuit, in terms of engineering and design, and one that thrives on Baku's very attractive urban atmosphere and its great combination of history and 21st century style. The historic city centre, the beautiful seaside promenade and the impressive government house all combine to provide the perfect backdrop for a spectacular new track.
"Obviously street circuits present a number of challenges, in terms of circuit design, but we have been able to incorporate some unique features that will provide the teams and fans with fascinating racing.
"For example, there will be an extremely narrow uphill section at the old town wall that will reward pinpoint accuracy and courage, and we have an acceleration section of almost 2.2 kilometres along the promenade which will see the cars running flat out at very high top speeds - something that will create an incredible spectacle for the race fans on track and the viewers at home, Tilke explained.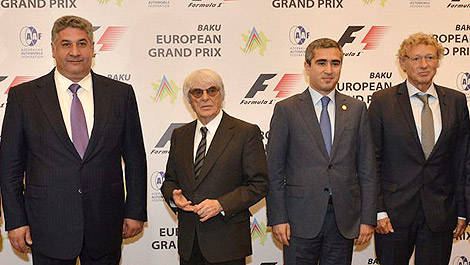 Azad Rahimov, Azerbaijan's Minister of Youth and Sport; Formula One group CEO Bernie Ecclestone; Anar Alakbarov, Executive Director of the Heydar Aliyev Foundation and the president of Azerbaijan Automobile Federation; circuit designer Hermann Tilke. (Photo: Baku Grand Prix)