The rain could not shake off Sebastian Vettel's (Red Bull) hold over F1 supremacy, going into the last grand prix of the 2013 season, in Brazil.
The four-time world champion, who bids for a ninth straight victory Sunday, beat his German countryman Nico Rosberg (Mercedes) to the pole by over half a second, with the rain still pouring down on the Autodromo Jose Carlos Pace, in Sao Paulo.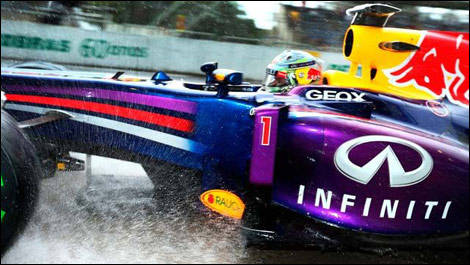 Sebastian Vettel, Red Bull RB9 (Photo: WRi2)
With the third fastest lap, Fernando Alonso (Ferrari) managed to push the second Red Bull of Mark Webber down to fourth, for the Australian's last F1 start before switching to endurance racing with Porsche.
Lewis Hamilton (Mercedes) and Romain Grosjean (Lotus) line up on the third row, just in front of Toro Rosso's Daniel Ricciardo and Jean-Eric Vergne. Felipe Massa (Ferrari) and Nico Hulkenberg (Sauber) are ninth and tenth.
Heikki Kovalainen (Lotus) almost cracked the top 10, but the Finn was caught out by the intensifying rain of Q2, which killed any chance of improvement late in the session. The raim actually become so heavy, officials had to delay the start of Q3 by several minutes.
With 14th, Sergio Perez out-qualified his soon-to-be ex McLaren teammate Jenson Button for the 10th time this season, despite crashing out.
Sunday's race features 71-lap of the 4.309-kilometre Interlagos circuit.
Qualifying results* – Brazilian Grand Prix (Sao Paulo)
1.Sebastian Vettel (Red Bull RB9-Renault) - 1'26"479 - Q3
2.Nico Rosberg (Mercedes W04) - 1'27"102 - Q3
3.Fernando Alonso (Ferrari F138) - 1'27"539 - Q3
4.Mark Webber (Red Bull RB9-Renault) - 1'27"572 - Q3
5.Lewis Hamilton (Mercedes W04) - 1'27"677 - Q3
6.Romain Grosjean (Lotus E21-Renault) - 1'27"737 - Q3
7.Daniel Ricciardo (Toro Rosso STR8-Ferrari) - 1'28"052 - Q3
8.Jean-Eric Vergne (Toro Rosso STR8-Ferrari) - 1'28"081 - Q3
9.Felipe Massa (Ferrari F138) - 1'28"109 - Q3
10.Nico Hulkenberg (Sauber C32-Ferrari) - 1'29"582 - Q3
11.Heikki Kovalainen (Lotus E21-Renault) - 1'27"456 - Q2
12.Paul Di Resta (Force India VJM06-Mercedes) - 1'28"269 - Q2
13.Valtteri Bottas (Williams FW35-Renault) - 1'27"954 - Q2
14.Sergio Perez (McLaren MP4/28-Mercedes) - 1'28"269 - Q2
15.Jenson Button (McLaren MP4/28-Mercedes) - 1'28"308 - Q2
16.Adrian Sutil (Force India VJM06-Mercedes) - 1'28"586 - Q2
17.Pastor Maldonado (Williams FW35-Renault) - 1'27"367 - Q1
18.Esteban Gutierrez (Sauber C32-Ferrari) - 1'27"445 - Q1
19.Charles Pic (Caterham CT03-Renault) - 1'27"843 - Q1
20.Giedo Van der Garde (Caterham CT03-Renault) - 1'28"320 - Q1
21.Jules Bianchi (Marussia MR02-Cosworth) - 1'28"366 - Q1
22.Max Chilton (Marussia MR02-Cosworth) - 1'28"950 - Q1
*Unofficial results