From Caterham F1 Team
Caterham F1 Team announced the arrival of a new Dutch sponsor as an official partner.
The Italian Grand Prix marked the first race where Cashper, the first and only short-term cash loan provider in Europe with a full banking licence owned by Novum Bank Limited (Malta), joined Caterham F1 Team as an official partner.
Cashper offers an easy accessible and convenient service for everyone with occasional short-term cash flow needs.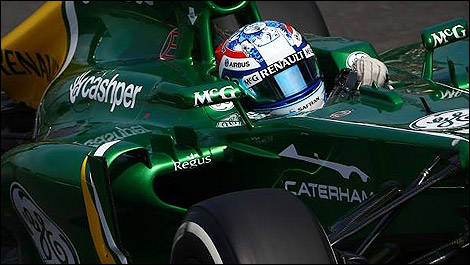 Photo: Caterham F1 Team
"Our partnership with Caterham F1 Team and Giedo van der Garde symbolises exactly what we stand for. Cashper's identity is "the Fast & Friendly Financer" and that mirrors perfectly Giedo's image, both of us constantly striving to maximize top speed and serve the public, said Renier Lemmens, Chairman of the Board, Novum Bank Ltd.
"As an Official Partner of Caterham F1 Team we are immediately creating a strong global presence for Cashper which provides short-term cash loans as a simple tool for consumers to meet and manage their smaller financial needs. Customers can count on almost instant cash and applying for a quick cash loan takes only five minutes".
Over the coming months Cashper will instigate a large promotional campaign to support their partnership with Caterham F1 Team.
Every customer will be automatically entered into a monthly draw to win t-shirts and caps, personally signed by Caterham F1 Team driver Giedo van der Garde and a grand prize will be offered, giving the winner a full VIP trip to the Caterham F1 Team factory in Leafield, UK.