From GMM
Caterham and Pirelli have denied reports the struggling Leafield based team could be left without tires at the forthcoming Japanese grand prix.
The Dutch newspaper
De Telegraaf
had claimed Pirelli, F1's official supplier, had warned the backmarker outfit that it urgently needed to make a payment for its 2014 tire supply before receiving service at Suzuka.
"It (the report) is just stupid," team boss Manfredi Ravetto, who recently took over from the suddenly departed new chief Christijan Albers, told Italy's
Omnicorse
.
"We will have tires at Suzuka as per normal," he insisted.
Pirelli also joined in the denials, with the Italian company's head of F1 communications Roberto Boccafogli insisting: "Caterham will be supplied tires to the end of the season. There are no problems."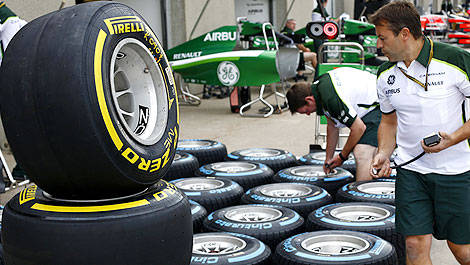 Photo: Pirelli