Caterham Formula 1 Team confirmed Wednesday that Kamui Kobayashi and Marcus Ericsson will race for the team at this weekend's Japanese Grand Prix.
Spaniard Roberto Merhi will take part in his second official Formula 1 session with the team during Friday's first morning practice at Suzuka.
"I'm very happy to be driving in another FP1 session with Caterham F1 Team. I want to thank the team for this opportunity – after my first outing a month ago in Italy, I am now looking forward to another 90 minutes in the car," said Mehri who will be driving a Renault-powered CT05.
"I will not be starting from zero like last time, so I will be able to get up to speed quicker. I have never driven in Japan, so I will need to learn the track at the same time as I continue to get used to the car, but it's a dream come true to be able to drive at such a special track like Suzuka, I just can't wait for it to be Friday!"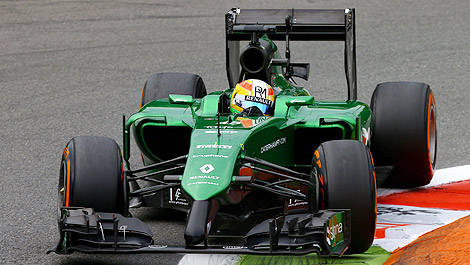 Robert Mehri, Caterham CT05-Renault. (Photo: WRi2)