Meeting the motorsport press this morning at Caterham F1 Team's headquarters in Leafield, UK team boss Tony Fernandes admitted that the 2014 season will be crucial for the future of his team.
Fernandez, also the owner of AirAsia airline company, said that 2014 was a "very pivotal year" for his F1 team as it seeks to score its first point in the sport after four years at the back of the grid.
The Malaysian team announced this morning that F1 veteran Kamui Kobayashi and 23-year-old rookie Marcus Ericsson would be driving the CT04-Renaults this season.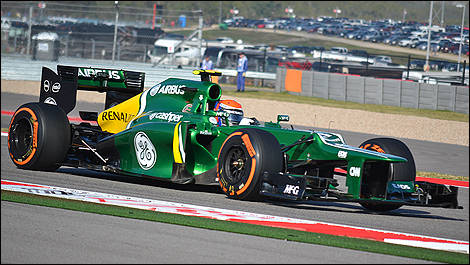 Alexander Rossi, Caterham CT-03, Austin 2013 (Photo: René Fagnan)
The businessman said his team had to make clear and significant progress in 2014.
"I'm the most optimistic man in the world but you don't want to be coming last all the time. This is a very pivotal year," said Fernandes to Sky Sports News.
Fernandes' threat to walk away from Caterham if the team fails to trouble the point scorers in 2014 was made even more explicit in a subsequent interview with Reuters.
"If we are at the back, I don't think we're going to carry on. After five years and to get no points, there's a limit to everyone's patience, money etc.", he said.
"If we are not competing then we have got to seriously examine ourselves as to whether this makes sense."