Brazilian Felipe Massa topped the timing charts, Friday, as F1 teams wrapped up a four-day test a Jerez, Spain.
The test gave 32-year-old Massa, who switched from Ferrari to Williams at the end of 2013, a chance to get familiar with the Grove based team over the week.
After acknowledging this was only testing, Massa admitted he is feeling quite happy his new family.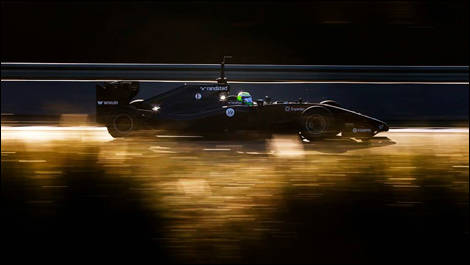 Felipe Massa, Williams FW36 (Photo: Williams)
"Testing is testing," he said.
"(But) overall, I'm happy with my first days with Williams and I'm pleased with what I have seen in the team this week.
"(Friday) wasn't a great day because it was raining, but we completed some laps in the wet conditions which was interesting to understand how the car behaves in wet, with the tyres and new power unit."
The team was also pleased with itself: "We are very happy with the performance and reliability of the car up to now," said Rod Nelson, Chief Test & Support Engineer.
"We still have a lot of work to do when we get to Bahrain and in the time leading up to then but overall, we are pleased with how we have ended the week here."