Two-time Formula 1 World Champion Fernando Alonso suggests that everyone should calm down about the arrival of a teenager in F1 next year.
Toro Rosso newly signed driver for next year Max Verstappen will make history in becoming the youngest ever F1 driver at just 17.
The Scuderia Ferrari driver maintains Verstappen's readiness for F1 shouldn't be judged on his age, but on how he performs in the opening half of next season.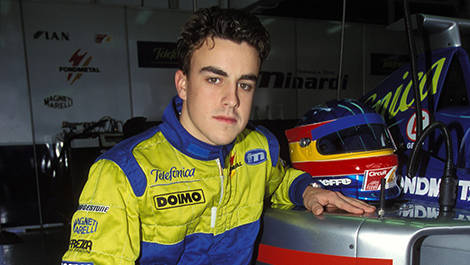 Fernando Alonso, Minardi, 2001 (Photo: WRI2)
"I think it is just one number on your passport the age," Alonso told
Sky Sports News HQ
.
"At the end of the day you need to be ready for the challenge and be ready for Formula 1 Grands Prix. Some people are ready at 17, some people are ready at 28 – that is what we don't know.
"So before saying anything we need to see how Verstappen does next year and after six to eight races we can see if he was ready or not. But at the moment anyone is ready."
Fernando Alonso was 19 years old when he made his debut for Minardi at the 2001 Australian GP.