Ferrari Formula 1 drivers, Fernando Alonso and Kimi Raikkonen, admitted they will keep fighting hard during the second half of 2014 despite driving the problematic F14 T.
"The car is still not goo enough and we are missing downforce and traction", said Alonso.
"With Kimi, we are working very hard and the debriefing sessions are very long this year. We are providing the engineers with a lot of information so that they point the guys in Maranello in the right direction. That's exactly what I was doing previously with Massa and my other teammates", added Alonso.
"I think we can do a better job, because Kimi has not performed very well so far this year. We've got to solve our handling problems and first against Mercedes", the Spaniard said.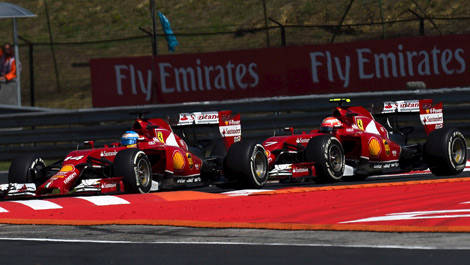 Fernando Alonso, Kimi Raikkonen, Ferrari F14 T (Photo: WRi2)
Raikkonen insists he has lost none of his speed since his winter return to Ferrari from Lotus despite his disappointing run of results and remains confident that both he and the team can eventually return to race-winning ways.
"It's been a hard first part of the year," the 34-year-old Finn said. "I know I've not lost speed from last year, so it's been disappointing to fight against the issues and problems we've had.
"I hope the second part of the season will be much better than the first, but one slightly better day doesn't change an awful lot.
"It doesn't take away the mistakes, the things we have to improve, to make us work much better as a team.
"There are a lot of things that need to be done to make sure we are where we should be."