Adapted from GMM
Ferrari has split from the pack and declared its support for three-car teams in formula one.
Amid rumours up to three or four teams are in financial peril, Bernie Ecclestone said in Singapore that the sport would fill the grid gaps by requiring top teams to move from two to three-car operations as soon as 2015.
"We'll know after the next two or three races, but it (the three car plan) is being looked at," said the F1 supremo.
It is feared two-decade-old Sauber and backmarker Caterham are the most at risk of collapsing, but Marussia is also in obvious strife and reports of unpaid bills regularly emerge about the Lotus team.
Force India co-owners Vijay Mallya and the jailed Subrata Roy, meanwhile, are also having high-profile financial problems.
If some teams do ultimately collapse, however, it is possible that three-car teams will be the solution to dwindling grid numbers.
Most team bosses are not keen.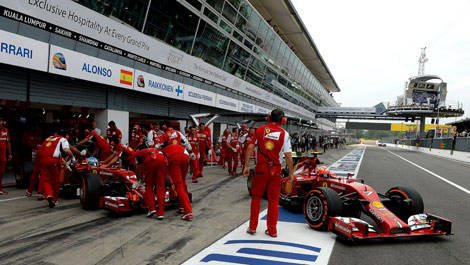 Most bosses are against three-car teams, but not Ferrari (Photo: WRI2)
"I hope it never comes to that," said Mallya.
It is expected that if the three-car solution is triggered by the grid dropping below 20 cars, it is the top teams like Mercedes, Red Bull, Ferrari and McLaren that are most likely to add a third runner to their respective garages.
Dominant giant Mercedes, however, is not keen.
"For us, the cost would amount to around 32 million euros to have a third car," Toto Wolff is quoted by
Speed Week
.
His counterpart Eric Boullier, however, said McLaren would "maybe" run a third car "to keep the grid at a decent number".
But Ferrari has made clear it is more than happy with the idea of three cars bearing the fabled Prancing Horse logo running around the calendar next year.
"It's not about the survival of F1," a team spokesman told the Spanish sports daily
AS
, "but for the show.
"With all due respect, people would prefer to see three more Red Bulls, Ferraris and Mercedes than the other cars," he reportedly added.