The Federation internationale de l'automobile has decided to go ahead with its plan to restrict the instructions that are given to Formula 1 drivers on team radios.
As revealed by British magazine Autosport earlier this week, the FIA has decided to reinforce Article 20.1 of F1's sporting regulations which states: "The driver must drive the car alone and unaided."
Following negotiations at last week's F1 Strategy Group meeting, the Federation was asked to look into ways of restricting radio discussions as part of a push to make drivers work harder.
FIA's Charlie Whiting has now written to teams to make it clear that there will be a dramatic cut in what teams are allowed to say from now on.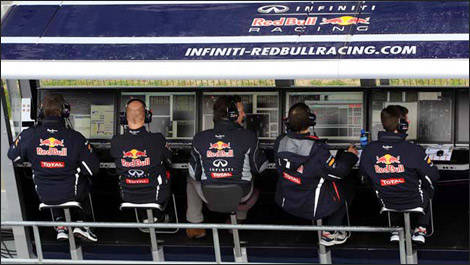 Red Bull Racing pitwall. (Photo: WRi2)
What does it means?

It means that F1 teams will no longer tell their drivers what to do to alter his speed, and how to modify the settings of his car.
A Formula 1 engineer confirmed
Auto123.com
that the teams will no longer be allowed to tell their drivers how to adjust the buttons and knobs located on the steering wheel to change the settings of the car.
Advice from the team on where lap time is being lost and where a teammate is doing better are now forbidden.
"FIA should also remind you that data transmission from pit to car is specifically prohibited by Article 8.5.2 of the F1 technical regulations," wrote Whiting to the teams.
However, messages about pit stop strategies and safety issues are still permitted.