During a press conference held Friday in Sochi, the FIA announced that following Jules Bianchi's nasty crash under the yellows at Suzuka, it plans to introduce a speed limit in the sections where yellows are waved.
Talking to reporters, FIA president Jean Todt explained that one of the key lessons to come out of this accident is that the speed of cars in caution zones needs to be better controlled.
The FIA introduced "Slow Zones" at the 2014 24 Hours of Le Mans to allow marshals to recover cars from the track without the need for a Safety Car whilst providing greater safety than yellow flags.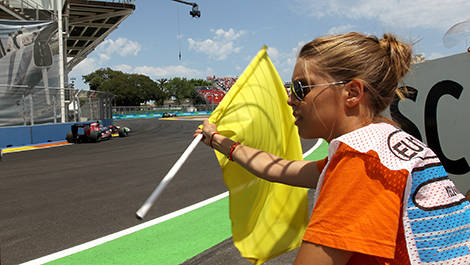 Yellow flag situation (Photo: WRI2)
Rather than neutralising the entire 13.5km of the Le Mans circuit, drivers were required to drive at 60km/h or less between two marshals' posts surrounding the area in which the incident occurred (a procedure called 'Code 60')
Formula 1 race director, Charlie Whiting thinks that F1 needs to find a similar system where the speed of cars when double yellows are out is controlled by the FIA, rather than relying on drivers to do what they think is best.
Whiting has called team managers to a meeting in Sochi to discuss ways of introducing this for 2015.
Later during the press conference, Whiting said that the FIA would be more cautious about how it deals with situations where heavy recovery vehicles are on track from now on.
"There is nothing we can do to the tractors as such. All I can say is we will use them with extreme caution," Whiting said.