Teenager Max Verstappen will make his Grand Prix debut next year with Toro Rosso and he is scheduled to drive a STR9 at this year's first free practice session in Japan.
Red Bull's Helmut Marko was the driving force behind Max Verstappen's signing with Toro Rosso. What did he see in the young Dutchman?
"He is an exceptional talent that comes along only once in decades…" said Marko on
Formula1.com
.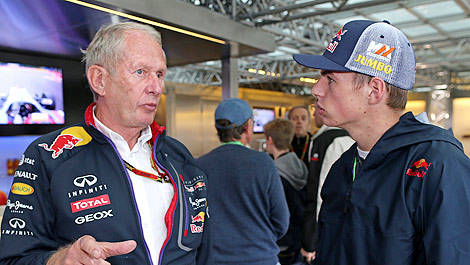 Helmut Marko and Max Verstappen, stand Toro Rosso. (Photo: WRi2)
Marko said he has no problem with seeing a 17-year-old kid drive a Formula car.
"As I said: mentally he is past 20 years old! And yes, we work with him intensively. He will do some Friday runs'. Marko explained.
"Not long ago he did a 400 km test in Italy, he's in the simulator whenever possible and he's working on his physique and psychology with top experts. Yes, some things became visible that we will have to address for the 2015 season. Having said that, he is getting the perfect 'schooling' before he gets on the grid", Marko continued.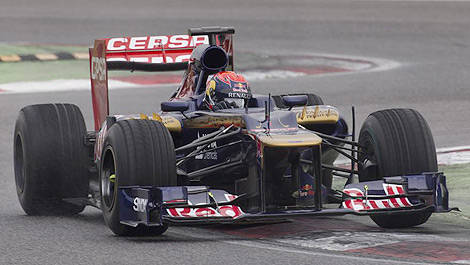 Max Verstappen driving the Toro Rosso at Adria, Italy. (Photo: ToroRosso.com)
The strict Austrian went even a step further, comparing him with one of the greatest drivers of all times.
"[I would compare him] most likely Ayrton Senna. And in such a case you must not look at his age. He has been talking with people who are experts when it comes to the development of youngsters and they all say that (in terms of) his mind he is more like 22 than 16," Marko said.
"And regarding his skills behind the steering wheel, he has been racing since he was four years old - professionally. So we expect him to be competitive from the first race. We are not playing the lottery - we know what we are doing. And success proves us right," Helmut Marko explained.