From GMM
Bernie Ecclestone could terminate Hockenheim's contract, as he looks to secure the long-term future of formula one in Germany.
Currently, Hockenheim - to host the German grand prix next month - annually alternates the race with the country's other F1 venue, the fabled Nurburgring.
But it emerged this week that, following the formerly insolvent Nurburgring's sale to a Dusseldorf group called Capricorn, the new owners are close to agreeing a contract to stage the German grand prix every year between 2015 and 2019.
A press release to that effect was issued by Capricorn on Tuesday.
"It is outrageous that this press release was issued," Hockenheim boss Georg Seiler told the German news agency
SID
.
"In formula one there is an unwritten law that says 'No press releases while you are negotiating'. This is scandalous."
After hosting July's 2014 race, the remainder of Hockenheim's current contract is for grands prix in 2016 and 2018.
Referring to F1 chief executive Bernie Ecclestone, Seiler said: "He cannot and will not terminate."
And DPA news agency also quoted him as saying: "I know Mr Ecclestone as a fair and good partner. The fact is that I was surprised by this news."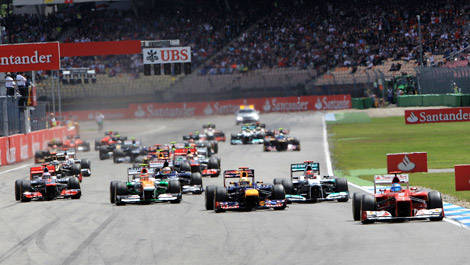 Start of the 2012 Grand Prix at Hockenheim. (Photo: WRi2)
Ecclestone, however, told Germany's
Auto Motor und Sport
that the new annual Nurburgring deal would result in Hockenheim's contract being terminated.
"I met with the people from Capricorn," he confirmed. "The problem is that they need to find revenues on the level of other European races.
"Since the Nurburgring is close to Spa, I offered them the same deal that Belgium has," added Ecclestone, referring to an arrangement where Spa gives up ticket revenues in exchange for a low race fee.
"I have nothing against Hockenheim," he explained, "but it seems that they are not able to meet our requirements.
"To help them, we had to enter into an agreement with special conditions. But it can't stay like that forever," said Bernie Ecclestone.
"If we sign a long-term agreement with the Nurburgring, it's best to end the existing contract and begin the new one as early as 2015."